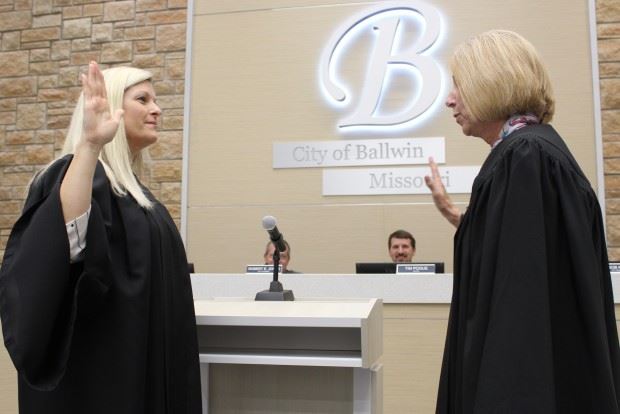 The Hammer Law Firm, LLC is proud to announce that Attorney Nicole Chiravollatti is now a provisional judge for the city of Ballwin, Missouri, one of the largest municipalities in St. Louis County. Ballwin's municipal judge, Virginia Nye, administered the oath during the Ballwin Board of Aldermen meeting on July 15, 2019. As a provisional judge, Attorney Chiravollatti will utilize her considerable experience as both a former assistant prosecutor and a criminal defense lawyer to serve as municipal judge in Nye's absence.
Attorney Chiravollatti would like to share the following statement about her appointment:
"I am deeply honored that the Ballwin Mayor and Board of Aldermen have appointed me to represent the city of Ballwin as Provisional Judge. My appointment to the bench is validation that I have acquired the extensive experience, courtroom skills, legal knowledge, and steady demeanor required to serve the community in this capacity. For an attorney, there is no greater privilege than being chosen to serve as a judge. I am so grateful for this amazing opportunity."
Attorney Chiravollatti is a member of the Missouri Bar, the American Bar Association, the Missouri Association of Criminal Defense Lawyers, the National Association of Criminal Defense Lawyers, and the Bar Association of Missouri St. Louis. Her legal experience extends to state and federal criminal trial practice, as well as appellate litigation.
The legal team at The Hammer Law Firm, LLC is thrilled that Attorney Chiravollatti has been honored with this remarkable and rewarding duty. We have no doubt that the city of Ballwin will benefit from her unique legal insight and years of courtroom experience. Likewise, we know that Attorney Chiravollatti, in her new role, will continue cultivating the leadership qualities and judicial experience needed to serve as an elite litigator and client advocate.
Read more on our Press Release.
As this is not a full-time appointment, Attorney Chiravollatti will continue representing clients facing misdemeanor and felony convictions in the state of Missouri. If you require legal representation, please contact The Hammer Law Firm, LLC at (314) 334-3807 to schedule a free case evaluation with our St. Louis criminal defense lawyers.