Burglary Protecting Your Rights & Defending Your Future
St. Louis Burglary Attorneys
Helping Protect the Rights of Individuals Facing Burglary Charges
Are you facing burglary charges in St. Louis? A conviction for burglary, no matter the degree, can have a significant impact on your future, such as fewer job opportunities, a tarnished reputation, jail time, and significant fines.
Our lawyers at The Hammer Law Firm, LLC will fight to protect your future, however. We genuinely believe that everyone deserves fair representation in court and will fight relentlessly on your behalf to have charges minimized or even dropped. Our St. Louis burglary lawyers are well-versed in criminal defense law: As former prosecutors, we know the techniques that your own case's prosecutor is likely to utilize against you.
Backed by more than 60 years of experience, our legal team is composed of seasoned negotiators and trial attorneys. Whether your case proceeds to trial or you are considering a plea bargain or compromise, our team can help you weigh your options and make an informed decision about what is best for your case.
Put award-winning skills in your corner. Contact our St. Louis burglary lawyers online or call us at (314) 334-3807 today.
What is Burglary?
In the state of Missouri, "burglary" refers to breaking and entering into another person's property to commit theft and is categorized in either the firstor second degree.
A person will be considered guilty of first-degree burglary if they unlawfully entered or unlawfully remained on a property for the express purpose of committing an offense inside that property and, while doing so, engaged in one or more of the following actions:
Caused physical injury to any non-participant in the crime
Threatened physical injury to any non-participant
Carried out the crime in front of a non-participant
Carried explosives and/or a deadly weapon
Similarly, burglary of the second degree is when a person unlawfully entered or remained in a building to commit an offense but did not commit any of the other actions above.
Kindly note that the state no longer differentiates between burglaries of residential properties and burglaries of businesses and/or other premises.
What Are the Penalties for Burglary Crimes in St. Louis?
First-degree burglary is punished as a class B felony, and second-degree burglary as a class D felony. Therefore, there are different legal penalties for each:
For burglary of the first degree, you will have to serve no less than five years and no more than 15 years in prison.
If you are facing second-degree burglary, the court may punish you with up to seven years in prison or a jail sentence of up to one year. What's more, you may also have to pay a fine of up to $10,000.
Other Burglary Offenses
The possession of burglary tools is a punishable offense on its own, per Missouri Revised Statutes § 569.180. However, a person will not be considered guilty of this crime for merely owning the tool, but rather that person will have had to obtained it under the following conditions:
The person knew the tool could be used to commit burglary; and
A person, including themselves, will be using that tool to do so.
Per state law, a conviction for the possession of burglary tools is considered a class E felony. As the least serious felony that a person may be charged with, the penalties vary greatly but cannot exceed four years in prison. In some cases, individuals convicted of class E felonies can obtain probation instead of prison time.
Why Choose The Hammer Law Firm, LLC?
If you are facing charges for a burglary crime, it is wise to work with a skilled legal team that can defend you in court. Unfortunately, a criminal conviction is not free of any long-term ramifications, as it will remain on your criminal record for years to come.
Our attorneys at The Hammer Law Firm, LLC will make you a priority should you work with us. In fact, we pride ourselves on being accessible and available to our clients 24 hours a day, 7 days a week. We also have a track record of success, as evidenced by the acclaim we have earned from our peers, clients, and industry organizations — including the National Association of Criminal Defense Lawyers and Super Lawyers® — for our work.
To speak to a St. Louis burglary attorney you can trust to fight for you, call The Hammer Law Firm, LLC at (314) 334-3807.

client testimonials
At The Hammer Law Firm, LLC, your satisfaction is our priority! See for yourself what our clients have to say about working with us.
"Thank God for Mark Hammer"

I cannot begin to explain in words how thankful I am that I contacted the Hammer Law Firm when I found myself facing criminal legal charges. I and my family will always be grateful beyond words for the role that Mark Hammer and The Hammer Law Firm played i

- Former Client

"Mark and Nicole are the best law firm partners ever."

They are professional, courteous, and respectful to both the courts and their clients. This team of professionals is not in business just for the money, they are truly out to help their clients.

- C.E.

"He is a gentleman, exudes confidence and relieves stress with his truth."

After a thorough review, Mark began to address every legal issue confronting our son, he had already done his homework, which began to bring sanity back into our family as we sat there.

- Ken

"Phenomenal Experience!!"

We contacted Mark Hammer for help with our son. Mark was truly amazing! He worked hard for our son, was always a text or phone call away, and we could not have asked (or predicted) a better outcome! Absolutely in awe of him.

- D.C.

"You don't know how much of a blessing you are to us"

Thank you so much, Nicole. I have faith and believe everything that's happening is for a reason. I know everything will be fine and I believe you are going to do everything you can and I'm very grateful for it.

- C.G.

"I could not have imagined getting through this difficult and uncertain time without the help of the Hammer Law Firm."

I absolutely recommend Mark and Nicole to anyone who is needing more than a lawyer, but people who do genuinely care about you and who want to get the best possible outcome to get you through this difficult time.

- E.M.

"I have never met such dedicated attorneys that work so hard for the truth to come out at the trial."

I just wanted to thank you again for your compassion, kindness, and support given to my family throughout this ordeal.  I thank the Hammer Law Firm for not only giving my son his life back but his family as well.

- Former Client

"I could call anytime, day or night, and you were there, even when times was bad for you."

I feel that you were not just our attorneys, but a friend that stood beside us through it all. I could call anytime, day or night, and you were there, even when times were bad for you.

- V.H.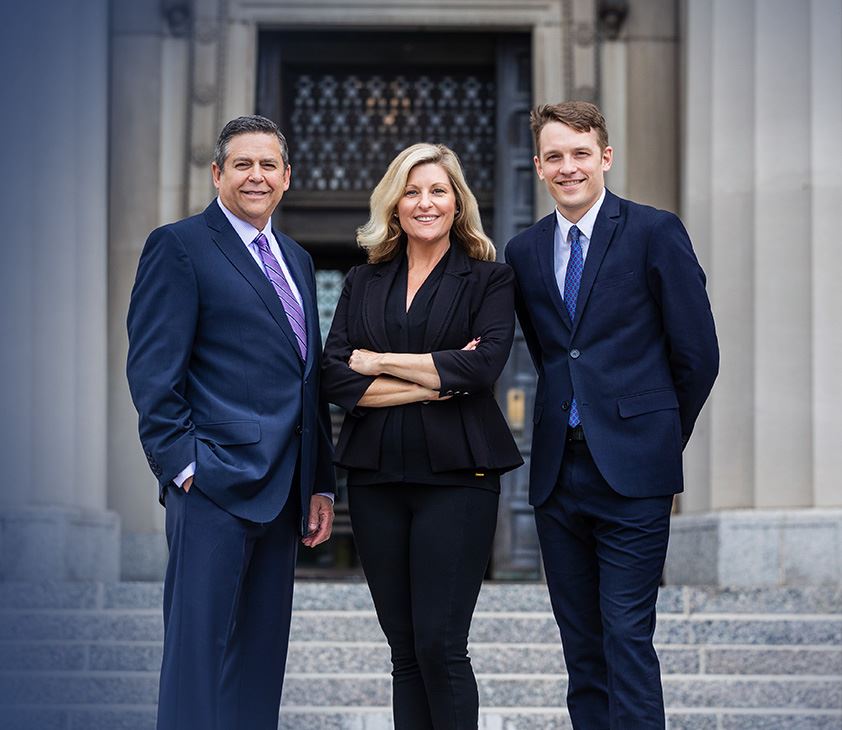 WHY TRUST OUR ST. LOUIS CRIMINAL DEFENSE LAW FIRM?
What Makes Us Different
We work directly with you to determine the best possible outcome based on your goals and needs. We then create personalized legal strategies to set your case up for success.

Accessibility & Availability

Our attorneys pride ourselves on always being available to address any questions you have regarding your case. With our team, you aren't just a number.

As former prosecutors who know how the 'other side' operates, we have a unique insight that allows us to set our client's cases up for success.

Experienced Legal Counsel

The Hammer Law Firm, LLC team has more than 60 years of combined criminal law experience. We have the tools, knowledge, and resources to effectively advocate on your behalf.

protecting You & Your Future
Former Prosecutors With Over 60 Years of Combined Experience
When you want personal support and proven representation, you need to bring The Hammer Law Firm, LLC to the fight.