Violent Crimes Protecting Your Rights & Defending Your Future
St. Louis Violent Crime Attorney
Arrested for a violent criminal offense in Missouri?
Any crime involving violence can be heavily punished in Missouri. State laws harshly penalize criminal actions that result in harm to others. Many times, violent crimes may be charged as felonies, and prosecutors are likely to seek the maximum penalties when the alleged victim is injured or killed—even if it was unintended.
At The Hammer Law Firm, LLC, we firmly believe that everyone accused of a crime deserves the best legal representation. Our St. Louis criminal defense attorneys, Mark Hammer and Nicole Chiravollatti, have more than 60 years of combined legal experience and are committed to protecting your rights. If you need tough negotiators and proven trial lawyers, don't hesitate to reach out.
Call (314) 334-3807 or contact us online today for a free consultation.
What Is a Violent Crime?
A violent crime is defined as an offense in which a person threatens or uses force upon another person. The violence could be the objective of the crime, such as murder, or it could be the method in which another crime was committed, such as robbery.
Violent crimes could include any of the following:
Armed Robbery: This is the act of stealing or attempting to steal someone else's property, while using a weapon or something that appears to be a weapon. Persons convicted of armed robbery, also known as aggravated robbery, could face felony charges.
Assault & Battery: Assault is causing or attempting to cause physical injury or fear of physical harm to another person. This type of offense could be charged as a misdemeanor or a felony, depending on the seriousness of the act. Battery involves intentionally touching someone in a forceful, violent, or offensive way.
Child Abuse: This is a complicated offense that can include different types of actions involving harm to children. Depending on the circumstances, child abuse can be a misdemeanor or a felony.
Domestic Violence: This can be any type of physical or emotional abuse that is committed by one family member or household member to another. Offenses include assault, neglect, threats, stalking, or harassment.
Kidnapping: Kidnapping involves knowingly restraining someone to demand a ransom, use as a hostage, engage in criminal sexual conduct or child sex abuse, take them to another state, or force them into servitude. Kidnapping is a serious felony that can be punished by up to life in prison.
Manslaughter / Murder: Manslaughter and murder are different legal classifications for the unlawful killing another human being. If the killing was done without planning, then it is classified as manslaughter. If the killing was done with forethought, then it is classified as murder.
Vehicular Manslaughter: This is defined as the killing of a person while operating a vehicle negligently. Vehicular manslaughter could result from drunk driving or breaking traffic laws.
Penalties for Violent Crimes in Missouri
If you are convicted of a violent crime in Missouri, the consequences may affect you for the rest of your life and cost you your job, your family, your relationships, and even your freedom. Possible penalties of a violent crime conviction include:
Up to life in prison
Large criminal fines
A permanent felony record
Difficulty getting a job or finding a place to live
Losing your professional license and your career in medicine, law, teaching, nursing, pharmacy, or other licensed profession
Immigration visa or green card revocation, citizenship application denial, or deportation (if you're a non-U.S. citizen)
Hire Experienced Trial Lawyers for Your Defense
If you are facing any one of these charges, be sure to call our St. Louis violent crime lawyers at The Hammer Law Firm, LLC. Violent crimes are often charged with felony penalties, resulting in a lengthy prison sentence, hefty fines, and life-changing repercussions.
Our legal team has successfully defended our clients in over 100 criminal jury trials, as well as hundreds of other contested hearings and bench trials. No matter the complexity of your case, we are prepared to stand by you and your family during this arduous process. Time is crucial, so we encourage you to schedule a free case evaluation as soon as possible.
Call (314) 334-3807 or contact us online today to speak with a professional. By contacting our firm, you can begin learning about the specific charges you face and how our legal team can help.

client testimonials
At The Hammer Law Firm, LLC, your satisfaction is our priority! See for yourself what our clients have to say about working with us.
"Thank God for Mark Hammer"

I cannot begin to explain in words how thankful I am that I contacted the Hammer Law Firm when I found myself facing criminal legal charges. I and my family will always be grateful beyond words for the role that Mark Hammer and The Hammer Law Firm played i

- Former Client

"Mark and Nicole are the best law firm partners ever."

They are professional, courteous, and respectful to both the courts and their clients. This team of professionals is not in business just for the money, they are truly out to help their clients.

- C.E.

"He is a gentleman, exudes confidence and relieves stress with his truth."

After a thorough review, Mark began to address every legal issue confronting our son, he had already done his homework, which began to bring sanity back into our family as we sat there.

- Ken

"Phenomenal Experience!!"

We contacted Mark Hammer for help with our son. Mark was truly amazing! He worked hard for our son, was always a text or phone call away, and we could not have asked (or predicted) a better outcome! Absolutely in awe of him.

- D.C.

"You don't know how much of a blessing you are to us"

Thank you so much, Nicole. I have faith and believe everything that's happening is for a reason. I know everything will be fine and I believe you are going to do everything you can and I'm very grateful for it.

- C.G.

"I could not have imagined getting through this difficult and uncertain time without the help of the Hammer Law Firm."

I absolutely recommend Mark and Nicole to anyone who is needing more than a lawyer, but people who do genuinely care about you and who want to get the best possible outcome to get you through this difficult time.

- E.M.

"I have never met such dedicated attorneys that work so hard for the truth to come out at the trial."

I just wanted to thank you again for your compassion, kindness, and support given to my family throughout this ordeal.  I thank the Hammer Law Firm for not only giving my son his life back but his family as well.

- Former Client

"I could call anytime, day or night, and you were there, even when times was bad for you."

I feel that you were not just our attorneys, but a friend that stood beside us through it all. I could call anytime, day or night, and you were there, even when times were bad for you.

- V.H.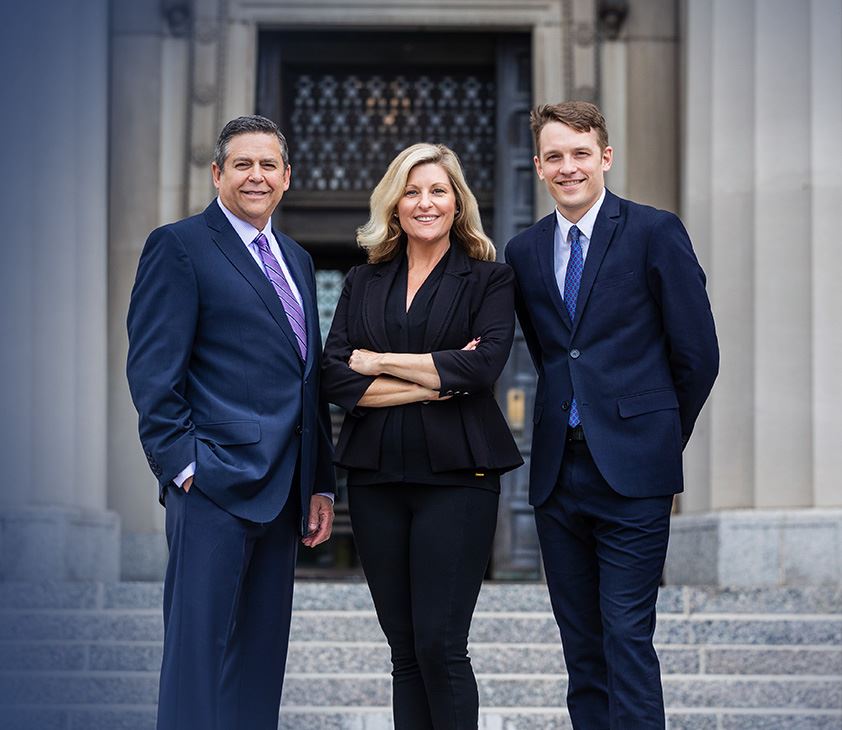 WHY TRUST OUR ST. LOUIS CRIMINAL DEFENSE LAW FIRM?
What Makes Us Different
We work directly with you to determine the best possible outcome based on your goals and needs. We then create personalized legal strategies to set your case up for success.

Accessibility & Availability

Our attorneys pride ourselves on always being available to address any questions you have regarding your case. With our team, you aren't just a number.

As former prosecutors who know how the 'other side' operates, we have a unique insight that allows us to set our client's cases up for success.

Experienced Legal Counsel

The Hammer Law Firm, LLC team has more than 60 years of combined criminal law experience. We have the tools, knowledge, and resources to effectively advocate on your behalf.

protecting You & Your Future
Former Prosecutors With Over 60 Years of Combined Experience
When you want personal support and proven representation, you need to bring The Hammer Law Firm, LLC to the fight.