Title IX Sexual Assault Protecting Your Rights & Defending Your Future
Title IX Sexual Assault Defense Lawyer
Defense Lawyers Protecting University Students in St. Louis
When a college or university student is accused of sexual assault by another student, the educational institution is responsible through Title IX regulations to conduct an investigation into the matter. While the faculty investigation is supposed to be unbiased and only exert punishments when deemed justified, they are notorious for acting hastily to try to protect their own reputation. A university can also lose all federal funding if they mishandle a Title IX investigation. As a result, accused students are penalized overly harshly without ever getting a chance to defend themselves in an official setting.
University students accused of sexual assault or another sex crime can face:
Removal from specific classes
Suspension from all courses
Expulsion from university or college
Destruction of reputation and good name
At The Hammer Law Firm, LLC, our St. Louis criminal defense lawyers are well-versed in sex crime case laws and defense work. We have the insight and experience needed to apply our knowledge and skills to high-stakes Title IX cases. Even though your case will not necessarily be brought to criminal court, you retain the right to consult with a criminal defense lawyer, or to let us act on your behalf. It is highly encouraged that you call us at (314) 334-3807 right away if you want to make certain your educational career is not permanently damaged by a false or exaggerated accusation of sexual assault against another student.
Defend Yourself from Title IX Sexual Assault Accusations
Faculty investigations and committees that look into accusations of Title IX sexual assault accusations are entirely separate from any official law enforcement agency. In most cases, no one on investigatory committees even have a background in criminal investigations or any application of the law. This does not stop them from exercising their authority and wrongfully penalizing accused students, though. To protect your right to an education and your reputation, act quickly with our student defense attorneys to bring a convincing argument to the attention of the faculty and investigators.
For your defense case, we can consider:
Your reputation and clean criminal record
Infamy of accuser and if they are known for fabrications
Accuser's medical record that shows no signs of sexual violence
Testimonies from trusted sources that speak of your good name
Deconstruction of any alleged evidence of wrongdoing
Police investigations showing no misconduct, if any exist
Time is Short – Take Action by Calling
(314) 334-3807

Now

A Title IX investigation can move quickly, much faster than an actual criminal investigation conducted by law enforcement. You have to stay on your feet as well.

Do so by contacting our St. Louis Title IX defense lawyers today and getting to work on your defense. Free consultations are available to inquiring clients.

client testimonials
At The Hammer Law Firm, LLC, your satisfaction is our priority! See for yourself what our clients have to say about working with us.
"Thank God for Mark Hammer"

I cannot begin to explain in words how thankful I am that I contacted the Hammer Law Firm when I found myself facing criminal legal charges. I and my family will always be grateful beyond words for the role that Mark Hammer and The Hammer Law Firm played i

- Former Client

"Mark and Nicole are the best law firm partners ever."

They are professional, courteous, and respectful to both the courts and their clients. This team of professionals is not in business just for the money, they are truly out to help their clients.

- C.E.

"He is a gentleman, exudes confidence and relieves stress with his truth."

After a thorough review, Mark began to address every legal issue confronting our son, he had already done his homework, which began to bring sanity back into our family as we sat there.

- Ken

"Phenomenal Experience!!"

We contacted Mark Hammer for help with our son. Mark was truly amazing! He worked hard for our son, was always a text or phone call away, and we could not have asked (or predicted) a better outcome! Absolutely in awe of him.

- D.C.

"You don't know how much of a blessing you are to us"

Thank you so much, Nicole. I have faith and believe everything that's happening is for a reason. I know everything will be fine and I believe you are going to do everything you can and I'm very grateful for it.

- C.G.

"I could not have imagined getting through this difficult and uncertain time without the help of the Hammer Law Firm."

I absolutely recommend Mark and Nicole to anyone who is needing more than a lawyer, but people who do genuinely care about you and who want to get the best possible outcome to get you through this difficult time.

- E.M.

"I have never met such dedicated attorneys that work so hard for the truth to come out at the trial."

I just wanted to thank you again for your compassion, kindness, and support given to my family throughout this ordeal.  I thank the Hammer Law Firm for not only giving my son his life back but his family as well.

- Former Client

"I could call anytime, day or night, and you were there, even when times was bad for you."

I feel that you were not just our attorneys, but a friend that stood beside us through it all. I could call anytime, day or night, and you were there, even when times were bad for you.

- V.H.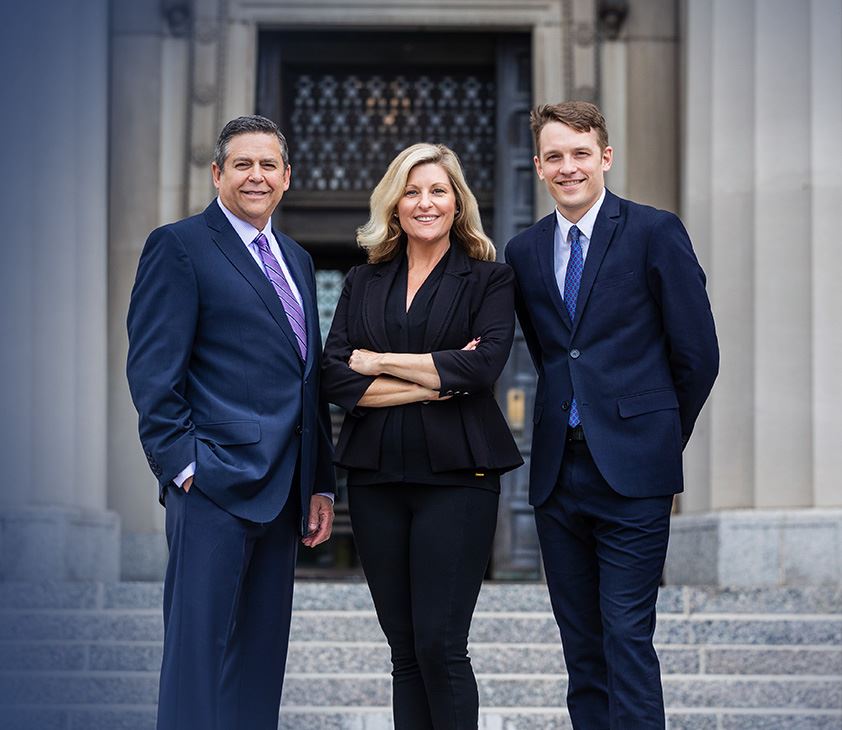 WHY TRUST OUR ST. LOUIS CRIMINAL DEFENSE LAW FIRM?
What Makes Us Different
We work directly with you to determine the best possible outcome based on your goals and needs. We then create personalized legal strategies to set your case up for success.

Accessibility & Availability

Our attorneys pride ourselves on always being available to address any questions you have regarding your case. With our team, you aren't just a number.

As former prosecutors who know how the 'other side' operates, we have a unique insight that allows us to set our client's cases up for success.

Experienced Legal Counsel

The Hammer Law Firm, LLC team has more than 60 years of combined criminal law experience. We have the tools, knowledge, and resources to effectively advocate on your behalf.

protecting You & Your Future
Former Prosecutors With Over 60 Years of Combined Experience
When you want personal support and proven representation, you need to bring The Hammer Law Firm, LLC to the fight.