Drug Distribution Defense Attorneys in St. Louis
Missouri Drug Crime Lawyers –
(314) 334-3807
Have you been charged with drug distribution in Missouri? You need to start thinking about how you can shield yourself from the accusations. The prosecution has certainly already begun compiling its evidence and building a case to put you behind bars. With The Hammer Law Firm, LLC, our drug distribution attorneys in St. Louis you can construct a defensive case capable of outmatching whatever the opposition brings against you.
Reasons you can trust in our legal team:
We have 30+ years of total criminal law experience.
We are led by former prosecutors with unmatched insight.
We have proven ourselves again and again in cases that go to trial.
We are recognized leaders in the industry.
Our past clients have shared appreciative testimonials.
Our record of case results shows impressive victories.
Challenge your drug distribution charges with our counsel. Contact us for a free consultation.
How Missouri Penalizes Drug Distribution Crimes
The penalties upon conviction for simple drug possession in Missouri are steep. The punishments that can be brought against someone for distributing drugs illegally are even harsher. Unless your criminal defense attorney can negotiate with the prosecutor who is assigned your case, any drug distribution charge is likely to be categorized as a felony.
The penalties for felony drug distribution in Missouri vary but will likely include:
At least one year in prison
Several thousand dollars in fines, or twice whatever profit was gained through distribution
Extensive probation upon release from prison
Probable revocation of gun rights for felony conviction
Penalties for a drug distribution charge will escalate depending on a number of factors. The drug in question can worsen the felony charge; for example, distributing cocaine is generally penalized worse than distributing pseudoephedrine. The amount of narcotics or illegal substances distributing will also be a major factor in how much the felony charge escalates. There are also a number of other miscellaneous considerations when the severity of charges are decided, such as your own criminal record, where you were arrested, and who received the illegal substances.
What Constitutes Drug Distribution?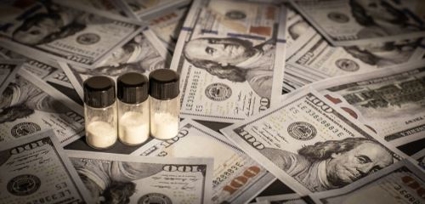 The Missouri criminal justice system often bundles distribution, sale, and trafficking into one criminal category. With this broadened definition, a person can be charged with distributing drugs for a variety of reasons. While most charges are concerned with large scale drug trafficking, just the act of handing an illegal substance to another person for use or safekeeping can even be misconstrued into distribution. For this reason and more, you need to be fully aware of what the prosecution will likely claim you did so you can react accordingly and swiftly.
Defend Your Rights with Former Prosecutors –
(314) 334-3807
The Hammer Law Firm, LLC has built a reputation for never backing down when the livelihoods of our clients are on the line. We take every case that comes to our desks seriously and provide personalized one-on-one attention for every client. Your comfort and confidence as your drug distribution defense case progresses are prioritized, as is securing a positive case result. To learn more about what you should do to defend yourself from the charges filed against you, contact our St. Louis drug distribution lawyers right away!