Marijuana Protecting Your Rights & Defending Your Future
St. Louis Marijuana Defense Attorneys
Proven Defense for Marijuana Possession Charges in Missouri -
(314) 334-3807
While many states across the country have begun decriminalizing the use of marijuana for medicinal and recreational purposes, it is still a crime in Missouri to possess, sell or cultivate marijuana, or, possess drug paraphernalia such as a bong, vape pen, or diffuser. If you are facing marijuana charges in Missouri, you need an aggressive defense attorney who can fight to keep these charges off your record.
At The Hammer Law Firm, LLC, we have been immersed in drug crime law for decades, as prosecutors and defense attorneys, and in both state and federal courts. Our insight, integrated with our skills and abilities allows our St. Louis marijuana defense lawyers to pursue the best possible terms for our clients facing a variety of marijuana charges.
Don't take a change when it comes to your future. Contact The Hammer Law Firm today at (314) 334-3807
Marijuana Charges & Penalties in Missouri
Although many marijuana drug crimes are already prosecuted on a lower tier than standard charges for other types of controlled substances, the penalties for distribution, sales, delivery, and cultivation are still severe. As such, anyone facing these allegations should be aware that they are often felonies that pose substantial fines and terms of imprisonment.
Possession of Marijuana
If you've been arrested with marijuana on your person, in your car, or otherwise in your possession, you may be charged with possession of marijuana. Unless you were in possession of over 35 grams of marijuana, you will be facing a misdemeanor offense.
Maximum penalties for possession of marijuana breakdown as follows:
First-time offense, less than 10 grams: no jail time and a $500 fine.
Second offense, less than 10 grams: one year in county jail and a $2,000 fine.
Possession of 10 - 35 grams: one year in county jail and a $2,000 fine.
Possession of 35 grams - 30 kilograms: seven years in prison and a $10,000 fine.
Additionally, possession of marijuana drug paraphernalia is a misdemeanor offense that comes with its own penalties:
First offense: no jail time, $500 fine.
Second offense: up to one year in county jail and a $2,000 fine.
Possession with Intent to Distribute
If you've been arrested for marijuana possession, the prosecution may attempt to increase your charges to possession with intent to distribute. The burden is on the prosecution to demonstrate with circumstantial evidence that it was your intent to sell the marijuana in your possession since you were not caught in the act of selling.
Maximum penalties for possession with intent are:
35 grams or less: 10 years in prison and a $10,000 fine.
35 grams to 30 kilograms: 10 years in prison and a $10,000 fine.
Sale or Distribution of Marijuana

client testimonials
At The Hammer Law Firm, LLC, your satisfaction is our priority! See for yourself what our clients have to say about working with us.
"Thank God for Mark Hammer"

I cannot begin to explain in words how thankful I am that I contacted the Hammer Law Firm when I found myself facing criminal legal charges. I and my family will always be grateful beyond words for the role that Mark Hammer and The Hammer Law Firm played i

- Former Client

"Mark and Nicole are the best law firm partners ever."

They are professional, courteous, and respectful to both the courts and their clients. This team of professionals is not in business just for the money, they are truly out to help their clients.

- C.E.

"He is a gentleman, exudes confidence and relieves stress with his truth."

After a thorough review, Mark began to address every legal issue confronting our son, he had already done his homework, which began to bring sanity back into our family as we sat there.

- Ken

"Phenomenal Experience!!"

We contacted Mark Hammer for help with our son. Mark was truly amazing! He worked hard for our son, was always a text or phone call away, and we could not have asked (or predicted) a better outcome! Absolutely in awe of him.

- D.C.

"You don't know how much of a blessing you are to us"

Thank you so much, Nicole. I have faith and believe everything that's happening is for a reason. I know everything will be fine and I believe you are going to do everything you can and I'm very grateful for it.

- C.G.

"I could not have imagined getting through this difficult and uncertain time without the help of the Hammer Law Firm."

I absolutely recommend Mark and Nicole to anyone who is needing more than a lawyer, but people who do genuinely care about you and who want to get the best possible outcome to get you through this difficult time.

- E.M.

"I have never met such dedicated attorneys that work so hard for the truth to come out at the trial."

I just wanted to thank you again for your compassion, kindness, and support given to my family throughout this ordeal.  I thank the Hammer Law Firm for not only giving my son his life back but his family as well.

- Former Client

"I could call anytime, day or night, and you were there, even when times was bad for you."

I feel that you were not just our attorneys, but a friend that stood beside us through it all. I could call anytime, day or night, and you were there, even when times were bad for you.

- V.H.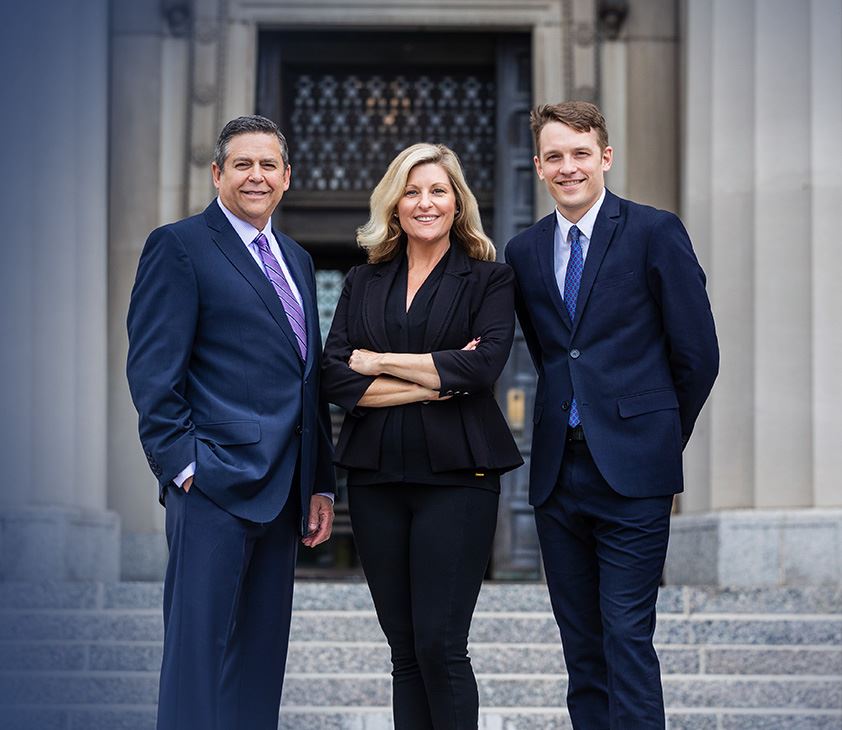 WHY TRUST OUR ST. LOUIS CRIMINAL DEFENSE LAW FIRM?
What Makes Us Different
We work directly with you to determine the best possible outcome based on your goals and needs. We then create personalized legal strategies to set your case up for success.

Accessibility & Availability

Our attorneys pride ourselves on always being available to address any questions you have regarding your case. With our team, you aren't just a number.

As former prosecutors who know how the 'other side' operates, we have a unique insight that allows us to set our client's cases up for success.

Experienced Legal Counsel

The Hammer Law Firm, LLC team has more than 60 years of combined criminal law experience. We have the tools, knowledge, and resources to effectively advocate on your behalf.

protecting You & Your Future
Former Prosecutors With Over 60 Years of Combined Experience
When you want personal support and proven representation, you need to bring The Hammer Law Firm, LLC to the fight.