Drug Possession Attorney in St. Louis
Aggressive Defense for Possession of a Controlled Substance in Missouri -
(314) 334-3807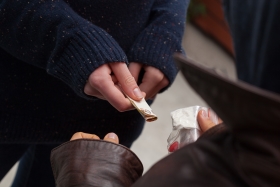 The criminal justice system in Missouri is notorious for being one of the harshest in the United States when it comes to dealing with drug crimes. Not only are the penalties upon conviction typically stricter for comparable crimes in other states, but many Missouri counties have a high conviction rate for simple drug crimes, including drug possession.
If you have been arrested for possession of a controlled substance, you need to act quickly to protect your rights, reputation, and finances from potential costly penalties. At The Hammer Law Firm, LLC, you can find a team of St. Louis drug possession attorneys with more than 30 years of collective experience dealing with criminal law.
As former prosecutors, we have the unique advantage of knowing what the opposition is going to say and do before they act. From the moment you retain our criminal defense services, you will already have taken a step in the right direction.
Start your defense case with a free consultation with our team.
What Are the Penalties for Possession of a Controlled Substance?
Missouri has some of the toughest drug laws in the country. Even a first-time drug possession offense can carry harsh penalties that may affect you for the rest of your life.
Missouri drug possession penalties include:
Cocaine: Possession of any amount of cocaine is a Class C felony that can be penalized with up to seven years in state prison and several thousand dollars in fines and collateral fees.
Methamphetamines: Possession of methamphetamine in any amount will be charged as a Class C felony as well; penalties often include up to seven years in prison and a $5,000 fine.
Pseudoephedrine: Possessing more than 9 grams of pseudoephedrine products in 30 days or 3.6 grams of such products in one day constitutes a Class A misdemeanor in most cases.
The above penalties typically describe first-time convictions and for comparatively low amounts of illegal drugs in the suspect's possession. Penalties will only worsen for subsequent charges or for larger quantities of drugs found at the time of the arrest.
What Are the Penalties for Possession of Marijuana in Missouri?
Unlike many other states in the country, Missouri has not yet legalized the possession of small amounts of marijuana or marijuana products. If you are arrested with even one gram of marijuana on your person or in your immediate control, then you can be charged with a low-level misdemeanor.
If you are arrested for marijuana possession and already have a similar offense on your criminal record, you will be charged with an escalated misdemeanor that can penalize you with up to one year behind bars and thousands of dollars in fines. The potential criminal penalties upon conviction will only escalate even more for other narcotics and illegal substances.
How to Defend Your Drug Possession Charges
Our St. Louis drug possession attorneys know that there is always more than one side to every story and arrest. No matter the circumstances of your drug possession charges or what the prosecution says they have to use against you, there will be a way to construct a defense case.
Common defenses for possession of a controlled substance can include:
Mistaken identity: Illegal substances found in your possession, vehicle, or household might not be yours at all. For shared spaces, like an apartment rented by numerous people, there are significant gray areas in who owns what property, or who is aware of what property is inside the structure.
Illegal search and seizure: The police need unquestionable reasoning to search and seize property with or without a warrant. Failing to take the proper steps before invading your privacy, taking your property, and making an arrest can essentially undo all of their efforts in court by rendering key evidence inadmissible.
Drug prescription: There is always the possibility that the drugs found in your possession were prescribed to you but you had no way of proving it at the time of your arrest. This may come up in cases involving pseudoephedrine or even medical marijuana.
The Hammer Law Firm, LLC Is Here to Fight for You
Every case is unique, so all or none of the aforementioned defenses might work for your own drug possession charges. The surest way to decide upon the best strategy is by teaming up with The Hammer Law Firm, LLC and our drug possession lawyers in St. Louis, Missouri.
By analyzing the details of your arrest, evidence collected during discovery, and studying the probable moves of the prosecution, we can construct a defense that works towards an optimal case resolution, which may be a not guilty verdict, case dismissal, or charge reduction.
Put experienced legal defense in your corner. Call (314) 334-3807 or contact us online right away.