Pseudoephedrine Protecting Your Rights & Defending Your Future
Pseudoephedrine Crime Attorneys in St. Louis
Pseudoephedrine is a chemical substance found in many over-the-counter drugs, including nasal decongestants. As a result of its similar chemical structure to amphetamines, pseudoephedrine is a commonly sought-after precursor used to manufacture methamphetamine. In fact, the use of pseudoephedrine from over-the-counter medications to make meth has reached such widespread proportions that numerous states throughout the country have resorted to regulating drugs containing pseudoephedrine.
Methamphetamine is a highly addictive controlled substance that can easily be made using household and over-the-counter products. Pseudoephedrineis widely available at major retailers, and is one of the most essential ingredients used to "cook" meth. As part of Missouri's efforts to stamp out the destructive drug, state legislatures have adopted restrictions that regulate the amount of pseudoephedrine a person is allowed to possess. Under Missouri law, retailers are also required to comply with strict regulations regarding the sale and disbursement of products containing pseudoephedrine.
Missouri Pseudoephedrine Laws
According to the State of Missouri Department of Health and Senior Services, the regulation of pseudoephedrine is enforced specifically, and solely, to combat the prevalence of illegal meth manufacturing. Currently, pseudoephedrine is considered a Schedule V controlled substance and can only be sold in pharmacies, regardless if they are typically considered over-the-counter medications.
Under §195.417 of the Missouri Revised Statutes, retailers are prevented from selling any one individual:
More than 9 grams of products containing pseudoephedrine within a 30-day period
More than 3.6 grams of products containing pseudoephedrine within 24 hours
Pharmacies are also required to maintain detailed logs, records, and documentation for all transactions involving the substance. While such strict regulation for seemingly innocuous cold medications may seem extreme, law enforcement agencies take no risks when it comes to methamphetamine drug enforcement. As a result, anyone who possesses more than the legal amount of pseudoephedrine, as well as retailers in violation of the law, may be subjected to a Class A misdemeanor allegation, which is punishable by fines and a term of imprisonment of up to one year. Elevated charges and penalties may also arise if other aggravating circumstances are present, including prior convictions and larger amounts.
Retain the Help of a Missouri Criminal Defense Lawyer
The Hammer Law Firm, LLC is prepared to draw from our extensive experience as St. Louis drug crime lawyers and former prosecutors to represent all parties accused of any pseudoephedrine-related charge. Whether you are a retailer or a consumer facing allegations for a pseudoephedrine drug crime, you can trust in our legal team to support you through these challenging times as we fight for the best possible resolution in your case.
We know that these can be frightening experiences, especially when you had no intention of committing a crime, and we offer free case evaluations so that you can find the information and support needed to gain a sense of control. Contact The Hammer Law Firm, LLC to discuss your legal needs.

client testimonials
At The Hammer Law Firm, LLC, your satisfaction is our priority! See for yourself what our clients have to say about working with us.
"Thank God for Mark Hammer"

I cannot begin to explain in words how thankful I am that I contacted the Hammer Law Firm when I found myself facing criminal legal charges. I and my family will always be grateful beyond words for the role that Mark Hammer and The Hammer Law Firm played i

- Former Client

"Mark and Nicole are the best law firm partners ever."

They are professional, courteous, and respectful to both the courts and their clients. This team of professionals is not in business just for the money, they are truly out to help their clients.

- C.E.

"He is a gentleman, exudes confidence and relieves stress with his truth."

After a thorough review, Mark began to address every legal issue confronting our son, he had already done his homework, which began to bring sanity back into our family as we sat there.

- Ken

"Phenomenal Experience!!"

We contacted Mark Hammer for help with our son. Mark was truly amazing! He worked hard for our son, was always a text or phone call away, and we could not have asked (or predicted) a better outcome! Absolutely in awe of him.

- D.C.

"You don't know how much of a blessing you are to us"

Thank you so much, Nicole. I have faith and believe everything that's happening is for a reason. I know everything will be fine and I believe you are going to do everything you can and I'm very grateful for it.

- C.G.

"I could not have imagined getting through this difficult and uncertain time without the help of the Hammer Law Firm."

I absolutely recommend Mark and Nicole to anyone who is needing more than a lawyer, but people who do genuinely care about you and who want to get the best possible outcome to get you through this difficult time.

- E.M.

"I have never met such dedicated attorneys that work so hard for the truth to come out at the trial."

I just wanted to thank you again for your compassion, kindness, and support given to my family throughout this ordeal.  I thank the Hammer Law Firm for not only giving my son his life back but his family as well.

- Former Client

"I could call anytime, day or night, and you were there, even when times was bad for you."

I feel that you were not just our attorneys, but a friend that stood beside us through it all. I could call anytime, day or night, and you were there, even when times were bad for you.

- V.H.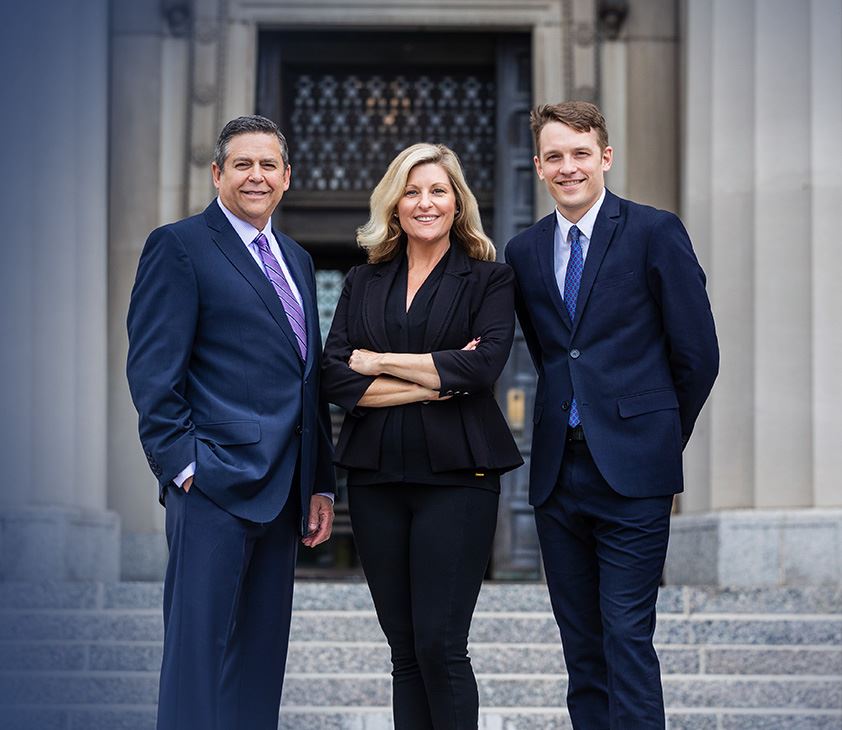 WHY TRUST OUR ST. LOUIS CRIMINAL DEFENSE LAW FIRM?
What Makes Us Different
We work directly with you to determine the best possible outcome based on your goals and needs. We then create personalized legal strategies to set your case up for success.

Accessibility & Availability

Our attorneys pride ourselves on always being available to address any questions you have regarding your case. With our team, you aren't just a number.

As former prosecutors who know how the 'other side' operates, we have a unique insight that allows us to set our client's cases up for success.

Experienced Legal Counsel

The Hammer Law Firm, LLC team has more than 60 years of combined criminal law experience. We have the tools, knowledge, and resources to effectively advocate on your behalf.

protecting You & Your Future
Former Prosecutors With Over 60 Years of Combined Experience
When you want personal support and proven representation, you need to bring The Hammer Law Firm, LLC to the fight.