Expungements Protecting Your Rights & Defending Your Future
St. Louis Expungement Attorneys
Criminal Record Sealing in Missouri
Criminal convictions can have serious and far-reaching consequences that greatly limit a person's opportunities in life. From employment and housing to professional licensing, having a criminal record can make you a less desirable candidate, or bar your participation entirely.
Fortunately, our laws have shifted to embrace second chances and eliminate barriers for individuals who have made mistakes and "served their time" by allowing them to expunge certain crimes.
In Missouri, expungement is the formal process for sealing a criminal record. It makes certain crimes publicly inaccessible for most purposes and can create new opportunities for individuals who are ready to move on and upward in their lives.
Help From The Hammer Law Firm
At The Hammer Law Firm, our St. Louis expungement lawyers are passionate about helping clients seal past convictions. Criminal law is our bread and butter, and we know how Missouri laws and courts work. We also offer:
Over 60 years of criminal law experience.
The insight of former prosecutors.
Accessibility – we're always available for our clients.
Personalized, one-on-one attention.
Discuss your situation, options, and how we can help during a FREE and confidential consultation. Call (314) 334-3807 or contact us online.
Missouri's Expungement Law
Missouri lawmakers have made tremendous progress in passing legislation to expand the number of expungable offenses and give good people who've paid for their mistakes the fair chance they deserve. This includes SB 588, which took effect in 2018, and SBs 53 and 60, which took effect in August 2021.
Under these legislative updates, over 1,900 criminal offenses now qualify for expungement in Missouri.
When a crime is expunged, records of the offense and court proceedings are sealed to the public and can only be accessed by court order or limited types of background checks, such as security clearances. Individuals who expunge a conviction do not have to disclose them in most situations, including most job and housing applications. However, there are some exceptions.
As outlined by RSMo § 610.140, expunged crimes must be disclosed in applications for:
Professional licenses or permits issued by state
Concealed carry permits
Employment with state lottery or gambling boats
Employment with banks or credit unions
Employment in insurance businesses
Jobs required by state or federal law to exclude applicants based on criminal convictions
Am I Able to Expunge My Criminal Record?
Your ability to expunge a criminal conviction will depend on a few factors. Per Missouri law, requirements to file for an expungement include:
All fines paid
Completed probation or parole
At least 3 years since the underlying offense (felony) or 1 years since the offense (misdemeanor, municipal offense, or infraction)
No new convictions for 3 years (felonies) or 1 year (misdemeanors, municipal offenses, or infractions)
No pending charges at the time of filing
Habits and conduct that demonstrate you are not a threat to public safety
Additionally, while Missouri allows most crimes to be expunged, certain crimes are ineligible for expungement. These generally include:
Call For a FREE Consultation:
(314) 334-3807
With recent changes to Missouri's expungement law, now is the time to take advantage of new opportunities to seal past convictions. But while expungement is possible, your ability to seal a conviction still depends on your individual circumstances. Because these are fact-specific matters, the best way to evaluate if you can expunge a criminal offense from your record is to have your matter reviewed by an experienced attorney.
Our team at The Hammer Law Firm is readily available to help you explore your options and discuss how we can guide you through the expungement process.
Call (314) 334-3807 or contact us online to speak with an expungement attorney. We serve clients across St. Louis County and beyond.

client testimonials
At The Hammer Law Firm, LLC, your satisfaction is our priority! See for yourself what our clients have to say about working with us.
"Thank God for Mark Hammer"

I cannot begin to explain in words how thankful I am that I contacted the Hammer Law Firm when I found myself facing criminal legal charges. I and my family will always be grateful beyond words for the role that Mark Hammer and The Hammer Law Firm played i

- Former Client

"Mark and Nicole are the best law firm partners ever."

They are professional, courteous, and respectful to both the courts and their clients. This team of professionals is not in business just for the money, they are truly out to help their clients.

- C.E.

"He is a gentleman, exudes confidence and relieves stress with his truth."

After a thorough review, Mark began to address every legal issue confronting our son, he had already done his homework, which began to bring sanity back into our family as we sat there.

- Ken

"Phenomenal Experience!!"

We contacted Mark Hammer for help with our son. Mark was truly amazing! He worked hard for our son, was always a text or phone call away, and we could not have asked (or predicted) a better outcome! Absolutely in awe of him.

- D.C.

"You don't know how much of a blessing you are to us"

Thank you so much, Nicole. I have faith and believe everything that's happening is for a reason. I know everything will be fine and I believe you are going to do everything you can and I'm very grateful for it.

- C.G.

"I could not have imagined getting through this difficult and uncertain time without the help of the Hammer Law Firm."

I absolutely recommend Mark and Nicole to anyone who is needing more than a lawyer, but people who do genuinely care about you and who want to get the best possible outcome to get you through this difficult time.

- E.M.

"I have never met such dedicated attorneys that work so hard for the truth to come out at the trial."

I just wanted to thank you again for your compassion, kindness, and support given to my family throughout this ordeal.  I thank the Hammer Law Firm for not only giving my son his life back but his family as well.

- Former Client

"I could call anytime, day or night, and you were there, even when times was bad for you."

I feel that you were not just our attorneys, but a friend that stood beside us through it all. I could call anytime, day or night, and you were there, even when times were bad for you.

- V.H.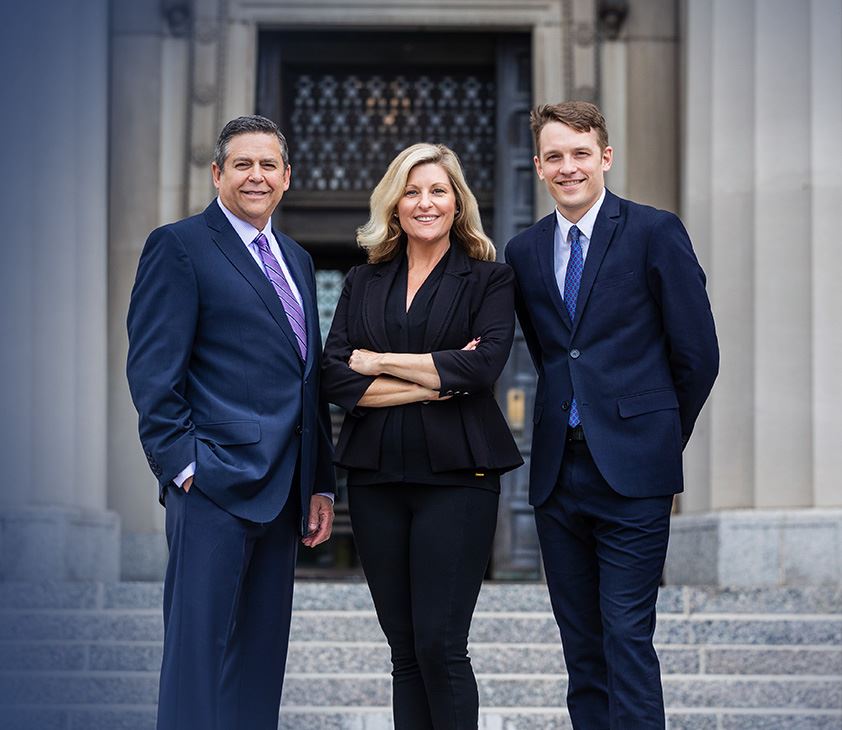 WHY TRUST OUR ST. LOUIS CRIMINAL DEFENSE LAW FIRM?
What Makes Us Different
We work directly with you to determine the best possible outcome based on your goals and needs. We then create personalized legal strategies to set your case up for success.

Accessibility & Availability

Our attorneys pride ourselves on always being available to address any questions you have regarding your case. With our team, you aren't just a number.

As former prosecutors who know how the 'other side' operates, we have a unique insight that allows us to set our client's cases up for success.

Experienced Legal Counsel

The Hammer Law Firm, LLC team has more than 60 years of combined criminal law experience. We have the tools, knowledge, and resources to effectively advocate on your behalf.

protecting You & Your Future
Former Prosecutors With Over 60 Years of Combined Experience
When you want personal support and proven representation, you need to bring The Hammer Law Firm, LLC to the fight.