Negotiation and Trial Skills Protecting Your Rights & Defending Your Future
SKILLED IN NEGOTIATION & LITIGATION
Selecting an attorney to defend against the charges you face is an important decision that you need to fully consider so that you understand what the firm you select can bring to the table. Though our unmatched personal service benefits our clients in numerous and profound ways, it would mean little without the extensive skills to back it up. At The Hammer Law Firm, LLC, Attorneys Mark Hammer and Nicole Chiravollatti have spent decades immersed in criminal law as both defense lawyers and former prosecutors. These unique experiences have allowed our legal team to hone and refine our negotiation and trial skills to a level that consistently enables our firm to secure positive resolutions.
What These Skills Mean
The fact that our St. Louis criminal defense attorneys are highly experienced and skilled in both negotiation and litigation means that we have the legal flexibility to address and successfully resolve cases wherever they may lead. As we are able to fight for our clients during negotiations with or trials against prosecutors, we are not confined by a limited skill set, so numerous avenues and options are presented to our clients. Rather than seeking these resolutions through less-effective means, such as seeking a dismissal by negotiation rather than trial, our lawyers commit to the best strategy and path with the utmost confidence in our skills, experience, and resources.
Building on a Positive Reputation
As a result of continually exercising our negotiation and trial skills during a variety of cases and in a variety of legal arenas, our lawyers have earned favorable reputations with prosecutors, judges, and court systems throughout the state of Missouri. Attorney Nicole Chiravollatti is respected throughout the state as a personable, persistent, and innovative attorney. As she is a logician with prosecutor credentials, and no prosecutor or legal adversary takes facing her lightly. When you combine her skills and reputation with that of Attorney Mark Hammer's, you have nothing less than a formidable legal duo.
In addition to maintaining positive relationships and connections with our legal peers, we often find that we can leverage our reputation and use it to our clients' advantages. When prosecutors know that they are up against talented litigators who have handled hundreds of trials, for example, they are often much more willing to negotiate favorable compromises or plea agreements. Although we still make decisions based on careful assessments, our recognition serves to create more options for our clients.
Proven & Reputable St. Louis Criminal Defense Attorneys
At The Hammer Law Firm, LLC, our lawyers negotiate boldly and with every effort focused on obtaining the best possible terms for our clients. When it comes time to litigate, we fight vigorously and intelligently on behalf of those we represent. Wherever your case may lead, you can be sure that we are equipped with the experience and skills to produce a favorable resolution. Additionally, you can rest assured that our legal team is comprised of upstanding lawyers who are widely regarded and respected for our grit, integrity, and professional abilities.
If you would like to learn more about the ways in which our negotiation and trial skills can benefit you and your case, please contact The Hammer Law Firm, LLC today.

client testimonials
At The Hammer Law Firm, LLC, your satisfaction is our priority! See for yourself what our clients have to say about working with us.
"Thank God for Mark Hammer"

I cannot begin to explain in words how thankful I am that I contacted the Hammer Law Firm when I found myself facing criminal legal charges. I and my family will always be grateful beyond words for the role that Mark Hammer and The Hammer Law Firm played i

- Former Client

"Mark and Nicole are the best law firm partners ever."

They are professional, courteous, and respectful to both the courts and their clients. This team of professionals is not in business just for the money, they are truly out to help their clients.

- C.E.

"He is a gentleman, exudes confidence and relieves stress with his truth."

After a thorough review, Mark began to address every legal issue confronting our son, he had already done his homework, which began to bring sanity back into our family as we sat there.

- Ken

"Phenomenal Experience!!"

We contacted Mark Hammer for help with our son. Mark was truly amazing! He worked hard for our son, was always a text or phone call away, and we could not have asked (or predicted) a better outcome! Absolutely in awe of him.

- D.C.

"You don't know how much of a blessing you are to us"

Thank you so much, Nicole. I have faith and believe everything that's happening is for a reason. I know everything will be fine and I believe you are going to do everything you can and I'm very grateful for it.

- C.G.

"I could not have imagined getting through this difficult and uncertain time without the help of the Hammer Law Firm."

I absolutely recommend Mark and Nicole to anyone who is needing more than a lawyer, but people who do genuinely care about you and who want to get the best possible outcome to get you through this difficult time.

- E.M.

"I have never met such dedicated attorneys that work so hard for the truth to come out at the trial."

I just wanted to thank you again for your compassion, kindness, and support given to my family throughout this ordeal.  I thank the Hammer Law Firm for not only giving my son his life back but his family as well.

- Former Client

"I could call anytime, day or night, and you were there, even when times was bad for you."

I feel that you were not just our attorneys, but a friend that stood beside us through it all. I could call anytime, day or night, and you were there, even when times were bad for you.

- V.H.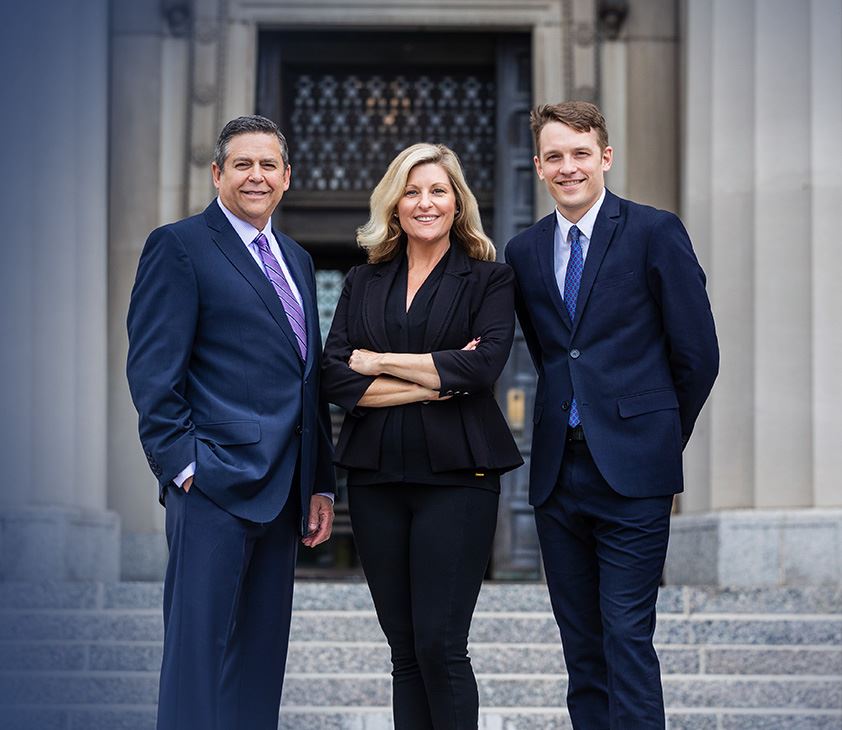 WHY TRUST OUR ST. LOUIS CRIMINAL DEFENSE LAW FIRM?
What Makes Us Different
We work directly with you to determine the best possible outcome based on your goals and needs. We then create personalized legal strategies to set your case up for success.

Accessibility & Availability

Our attorneys pride ourselves on always being available to address any questions you have regarding your case. With our team, you aren't just a number.

As former prosecutors who know how the 'other side' operates, we have a unique insight that allows us to set our client's cases up for success.

Experienced Legal Counsel

The Hammer Law Firm, LLC team has more than 60 years of combined criminal law experience. We have the tools, knowledge, and resources to effectively advocate on your behalf.

protecting You & Your Future
Former Prosecutors With Over 60 Years of Combined Experience
When you want personal support and proven representation, you need to bring The Hammer Law Firm, LLC to the fight.