Juvenile Crimes Protecting Your Rights & Defending Your Future
St. Louis Juvenile Crimes Lawyer
Protecting the Rights & Futures of Underage Clients in Missouri
No one wants their child to be convicted of a crime. Unfortunately, youths are prone to making mistakes, and if mistakes escalate to a criminal charge, parents and families need the experienced, reputable, and results-driven defense our firm can provide. The Hammer Law Firm, LLC fights on behalf of juveniles under the age of 18 charged with a criminal offense, and we are familiar with the typical forms of leniency, alternative resolutions, and legal procedures that can help young clients resolve their cases and take the steps toward a productive future.
Is your child facing juvenile charges? Call The Hammer Law Firm, LLC today at (314) 334-3807 or contact us online to schedule a meeting with our juvenile crimes attorney in St. Louis!
Juvenile Crime Cases We Handle
It has been proven by numerous studies that juveniles convicted of crimes run an increased risk of recidivism or returning to a life of crime and incarceration. We want to help ensure this doesn't happen and will devote the time and effort of our legal team to provide your child with any additional resources or help they need. We are prepared to deal with any issue relating to a juvenile charge, including some of the most common:
Drug crimes, including possession and underage drinking
Vandalism and graffiti
Property crimes
Sex crimes and sexting charges
Child abuse or neglect and state protective custody proceedings related to these.
Status offenses, such as underage drinking, truancy, or running away.
Delinquency (criminal violations) such as gang crimes, property offenses, or theft.
Juveniles are capable of committing the same types of crime as adults. Although we have an active criminal defense practice for adult offenders, we understand that dealing with young people who have made unfortunate mistakes requires delicacy, compassion, and legal flexibility. Our St. Louis juvenile crime attorneys make it a point to work closely with juvenile offenders and their families and loved ones. We go above and beyond the often impersonal approaches, other firms use when dealing with similar cases. Our constant communication and genuine desire to help young people and their families can provide you with the necessary defense and resources.
Juvenile Crime Penalties in Missouri
In Missouri, the penalties for juvenile crimes vary depending on the offense's severity, the offender's age, and other factors. The juvenile justice system is designed to focus on rehabilitation and education rather than punishment, so penalties often involve measures aimed at helping the offender get back on the right track. Here are some possible penalties for juvenile offenders in Missouri:
Diversion programs: In some cases, juvenile offenders may be offered diversion programs to avoid formal charges and penalties if they complete certain requirements, such as community service, counseling, or drug treatment.
Probation: Juvenile offenders may be placed on probation, which typically involves supervision by a probation officer and adherence to certain conditions, such as attending school, maintaining a curfew, and staying out of trouble.
Counseling or therapy: Many juvenile offenders benefit from counseling or therapy to address underlying issues that may have contributed to their delinquent behavior, such as mental health problems or substance abuse.
Community service: Juvenile offenders may be required to serve as part of their sentence, which can help them develop a sense of responsibility and contribute positively to their community.
Placement in a juvenile detention facility: For more serious offenses, juvenile offenders may be placed in a secure detention facility. The length of stay in such facilities varies, and they often provide educational and vocational programs to help offenders get back on track.
It's important to note that in some cases, a juvenile offender may be transferred to adult court and face adult penalties if the offense is particularly serious or is deemed unfit for the juvenile justice system.
When Will a Child Be Tried as an Adult?

client testimonials
At The Hammer Law Firm, LLC, your satisfaction is our priority! See for yourself what our clients have to say about working with us.
"Thank God for Mark Hammer"

I cannot begin to explain in words how thankful I am that I contacted the Hammer Law Firm when I found myself facing criminal legal charges. I and my family will always be grateful beyond words for the role that Mark Hammer and The Hammer Law Firm played i

- Former Client

"Mark and Nicole are the best law firm partners ever."

They are professional, courteous, and respectful to both the courts and their clients. This team of professionals is not in business just for the money, they are truly out to help their clients.

- C.E.

"He is a gentleman, exudes confidence and relieves stress with his truth."

After a thorough review, Mark began to address every legal issue confronting our son, he had already done his homework, which began to bring sanity back into our family as we sat there.

- Ken

"Phenomenal Experience!!"

We contacted Mark Hammer for help with our son. Mark was truly amazing! He worked hard for our son, was always a text or phone call away, and we could not have asked (or predicted) a better outcome! Absolutely in awe of him.

- D.C.

"You don't know how much of a blessing you are to us"

Thank you so much, Nicole. I have faith and believe everything that's happening is for a reason. I know everything will be fine and I believe you are going to do everything you can and I'm very grateful for it.

- C.G.

"I could not have imagined getting through this difficult and uncertain time without the help of the Hammer Law Firm."

I absolutely recommend Mark and Nicole to anyone who is needing more than a lawyer, but people who do genuinely care about you and who want to get the best possible outcome to get you through this difficult time.

- E.M.

"I have never met such dedicated attorneys that work so hard for the truth to come out at the trial."

I just wanted to thank you again for your compassion, kindness, and support given to my family throughout this ordeal.  I thank the Hammer Law Firm for not only giving my son his life back but his family as well.

- Former Client

"I could call anytime, day or night, and you were there, even when times was bad for you."

I feel that you were not just our attorneys, but a friend that stood beside us through it all. I could call anytime, day or night, and you were there, even when times were bad for you.

- V.H.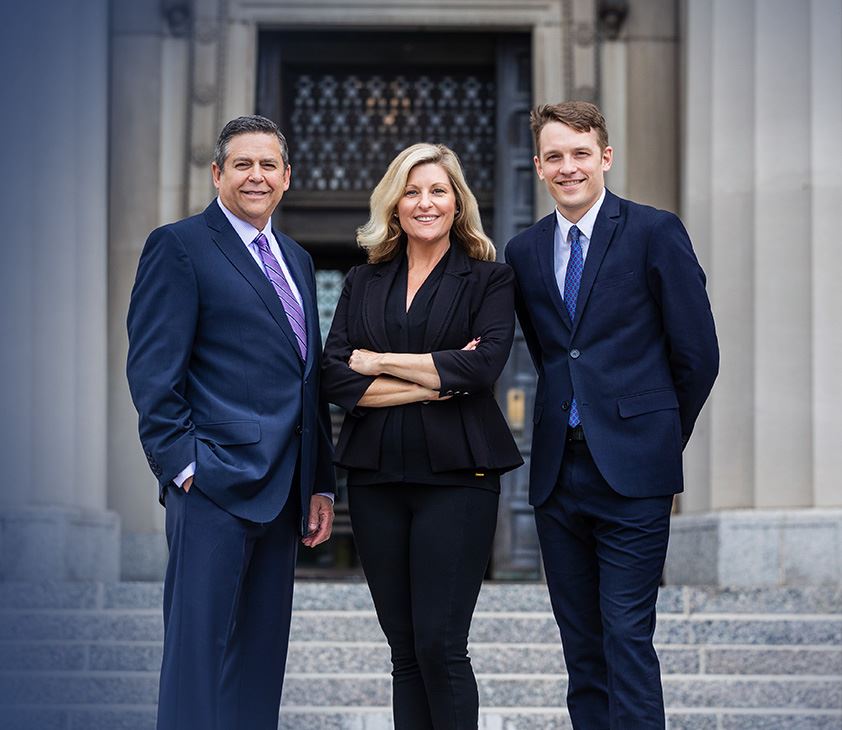 WHY TRUST OUR ST. LOUIS CRIMINAL DEFENSE LAW FIRM?
What Makes Us Different
We work directly with you to determine the best possible outcome based on your goals and needs. We then create personalized legal strategies to set your case up for success.

Accessibility & Availability

Our attorneys pride ourselves on always being available to address any questions you have regarding your case. With our team, you aren't just a number.

As former prosecutors who know how the 'other side' operates, we have a unique insight that allows us to set our client's cases up for success.

Experienced Legal Counsel

The Hammer Law Firm, LLC team has more than 60 years of combined criminal law experience. We have the tools, knowledge, and resources to effectively advocate on your behalf.

protecting You & Your Future
Former Prosecutors With Over 60 Years of Combined Experience
When you want personal support and proven representation, you need to bring The Hammer Law Firm, LLC to the fight.