Drug Trafficking Protecting Your Rights & Defending Your Future
St. Louis Drug Trafficking Lawyers
Federal Crime Defense Attorneys Serving St. Louis, MO
Drug trafficking is a serious crime that refers to the selling, transporting, and illegal import of controlled substances, usually in large amounts and including drugs like:
Heroin
Cocaine
Prescription pills
According to a 2003 report by the United Nations, the global drug trade is estimated to be worth a staggering $321.6 billion.
A drug trafficking charge is a felony and may carry with it prison time ranging from five years to life depending on:
The amount of the drug
The type of drug
Previous criminal history
If an individual is found to have a significant enough quantity of drugs in their possession, they may still be charged with drug trafficking if law enforcement believes they have an intent to sell. If you have been arrested and accused of drug trafficking, you may be facing severe penalties that could affect the rest of your life.
Contact The Hammer Law Firm, LLC without delay – every moment you wait could diminish your chances to secure a favorable outcome for your case.
Federal Schedules for Controlled Substances
The federal government has created schedules to classify various types of drugs according to their risk for dependency and abuse. Schedule I drugs have the highest potential for abuse, and carry the highest penalties if a person is charged with their manufacture, distribution, or possession. They include heroin, marijuana, psilocybin, ecstasy, and more. Schedule V drugs have widely accepted medical uses and carry the least risk of physical dependency compared to the previous 4 schedules, but distribution of these types of medications can still qualify for a drug trafficking charge. These include medications containing codeine, sleep aids, and more.
Under Missouri law, an individual can be charged with a Class A felony offense if they are caught distributing, producing, or manufacturing the following amounts of drugs:
Heroin: more than 30g
LSD: more than 500mg
PCP: more than 30g
Marijuana: more than 30kg
Amphetamine, methamphetamine, or their salts: more than 30g
Coca leaves: more than 150g

client testimonials
At The Hammer Law Firm, LLC, your satisfaction is our priority! See for yourself what our clients have to say about working with us.
"Thank God for Mark Hammer"

I cannot begin to explain in words how thankful I am that I contacted the Hammer Law Firm when I found myself facing criminal legal charges. I and my family will always be grateful beyond words for the role that Mark Hammer and The Hammer Law Firm played i

- Former Client

"Mark and Nicole are the best law firm partners ever."

They are professional, courteous, and respectful to both the courts and their clients. This team of professionals is not in business just for the money, they are truly out to help their clients.

- C.E.

"He is a gentleman, exudes confidence and relieves stress with his truth."

After a thorough review, Mark began to address every legal issue confronting our son, he had already done his homework, which began to bring sanity back into our family as we sat there.

- Ken

"Phenomenal Experience!!"

We contacted Mark Hammer for help with our son. Mark was truly amazing! He worked hard for our son, was always a text or phone call away, and we could not have asked (or predicted) a better outcome! Absolutely in awe of him.

- D.C.

"You don't know how much of a blessing you are to us"

Thank you so much, Nicole. I have faith and believe everything that's happening is for a reason. I know everything will be fine and I believe you are going to do everything you can and I'm very grateful for it.

- C.G.

"I could not have imagined getting through this difficult and uncertain time without the help of the Hammer Law Firm."

I absolutely recommend Mark and Nicole to anyone who is needing more than a lawyer, but people who do genuinely care about you and who want to get the best possible outcome to get you through this difficult time.

- E.M.

"I have never met such dedicated attorneys that work so hard for the truth to come out at the trial."

I just wanted to thank you again for your compassion, kindness, and support given to my family throughout this ordeal.  I thank the Hammer Law Firm for not only giving my son his life back but his family as well.

- Former Client

"I could call anytime, day or night, and you were there, even when times was bad for you."

I feel that you were not just our attorneys, but a friend that stood beside us through it all. I could call anytime, day or night, and you were there, even when times were bad for you.

- V.H.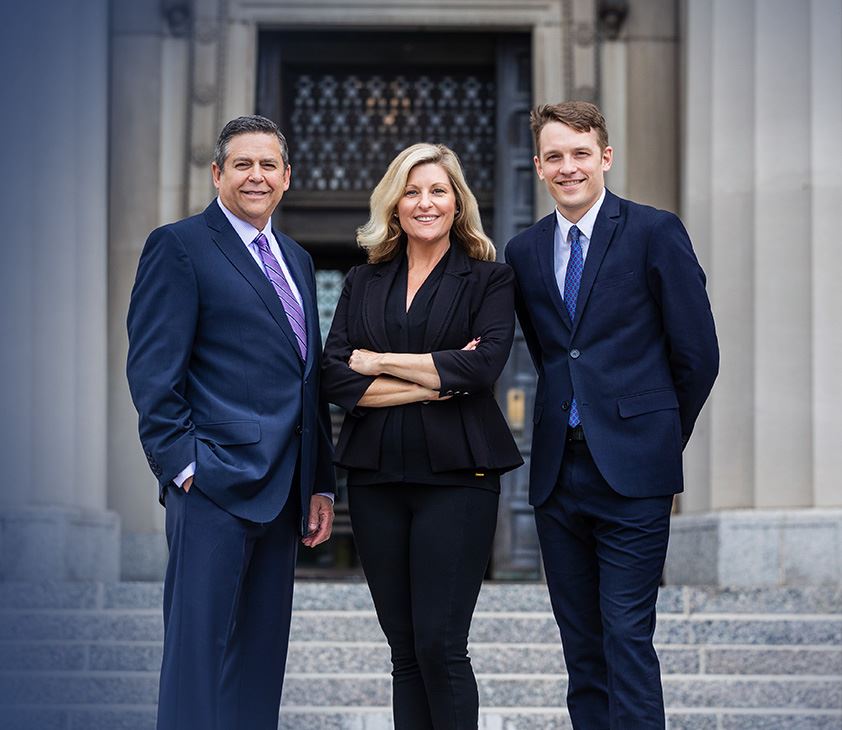 WHY TRUST OUR ST. LOUIS CRIMINAL DEFENSE LAW FIRM?
What Makes Us Different
We work directly with you to determine the best possible outcome based on your goals and needs. We then create personalized legal strategies to set your case up for success.

Accessibility & Availability

Our attorneys pride ourselves on always being available to address any questions you have regarding your case. With our team, you aren't just a number.

As former prosecutors who know how the 'other side' operates, we have a unique insight that allows us to set our client's cases up for success.

Experienced Legal Counsel

The Hammer Law Firm, LLC team has more than 60 years of combined criminal law experience. We have the tools, knowledge, and resources to effectively advocate on your behalf.

protecting You & Your Future
Former Prosecutors With Over 60 Years of Combined Experience
When you want personal support and proven representation, you need to bring The Hammer Law Firm, LLC to the fight.