St. Louis Federal Crimes Lawyer
Defending Clients Who Are Facing Federal Crime Charges in Missouri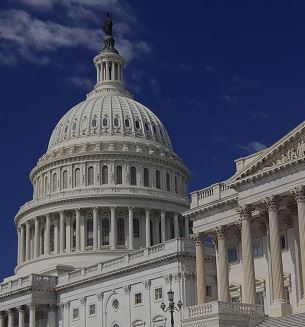 Allegations of a federal offense have the potential to change your life forever, resulting in a loss of freedom and rights. Challenging federal charges may seem a daunting task, particularly when you consider the resources and clout of the Federal Bureau of Investigation (FBI), Drug Enforcement Agency (DEA), and other federal agencies, not to mention the experience and manpower at the fingertips of federal prosecutors.
The St. Louis federal crime attorneys at The Hammer Law Firm, LLC recognize the serious nature of these charges and proceedings and utilize our own resources and experience to protect defendants' rights inside and outside of the federal courtroom.
---
Have you been accused of a federal crime? Call The Hammer Law Firm, LLC today at (314) 334-3807 or contact us online to schedule a free consultation with our federal crimes attorneys in St. Louis.
---
Federal Crime Cases We Handle
You can learn more about specific federal crimes and the steps our legal team can take to challenge these offenses by reviewing the following subjects:
This federal crime involves defrauding a financial institution. A person may face bank fraud charges for defrauding or attempting to defraud a bank or other similar institution, even if the scheme is unsuccessful. Devising the scheme and taking a step toward its completion may be sufficient for bank fraud charges.
An extremely serious offense due to the fact that it is a sex crime that can be charged on a federal level, child pornography involves the possession, creation, distribution, or sale of pornographic material depicting minors. In addition to facing imprisonment and fines, a defendant convicted of this type of offense may face lifetime sex offender registration.
Manufacturing, selling, possessing for sale, or distributing controlled substances may fall under the category of drug trafficking. When state lines or national borders are crossed or a substantial amount of drugs are involved, federal agencies are likely to investigate and prosecute these cases.
Taking and holding another person against his or her will is the basic definition of kidnapping, and if state lines or national borders are crossed or the victim is a government official, the FBI or other federal agencies may become involved. Depending on the case, a defendant may face life in prison for kidnapping.
Covered under the Racketeer-Influenced Corrupt Organizations Act (RICO Act), these offenses involve organized crime and businesses that operate based on illegal activity. RICO and racketeering charges may be filed against members of alleged criminal organizations for crimes committed in connection with their operations, even if they did not carry out these crimes themselves.
Tax fraud, or tax evasion, is a federal crime that involves avoiding or attempting to avoid the full payment of taxes to the federal government. Misstating income, hiding assets, claiming false deductions, and failing to file tax returns are examples of acts that may be considered tax fraud.
Committing or attempting to commit an act of fraud using the internet, radio, or television may be considered wire fraud, one of the most serious federal crimes. If a financial institution is affected or targeted, a defendant may face up to 30 years in prison and a fine of up to $1 million.
Why Hire The Hammer Law Firm, LLC
The seriousness and life-altering repercussions at stake in federal crime cases elevate the need for legal representation. If you or your loved one currently stands accused of any federal crime, you need to be confident when choosing the attorneys you want to fight by your side.
Fortunately, our St. Louis federal criminal defense lawyers have years of experience handling a variety of crimes in the federal court system, including federal sex crimes, and have amassed a considerable amount of skill and knowledge on how these cases are handled.
When integrated with our decades of criminal law experience and time spent as former prosecutors, our familiarity with the federal criminal justice system allows our legal team to set our clients at ease and guide them through the process using a step-by-step approach.
We know the tactics employed by federal prosecutors and agencies, and we have the skills to negate their case in your favor. We take pride in the fact that we have spent a considerable amount of time in federal court, and we believe that our services can benefit clients facing any type of federal charge.
Difference Between State & Federal Crimes
Because federal crimes differ from state crimes in many ways - including the investigating agencies, procedures, and more serious penalties and prison terms – it is essential for anyone facing federal charges to work with attorneys who are not only licensed to practice in federal court but who also have extensive experience dealing with federal prosecutors, federal law enforcement, and the steps needed to help accused individuals secure the most successful outcome possible when the stakes are high.
Contact Our Federal Crimes Attorneys Today
It is understandable for anyone facing a criminal allegation to feel overwhelmed and intimidated. During such chaotic and uncertain times, having bold and unwavering advocates by your side is simply invaluable.
We have successfully proven ourselves in the federal legal arena, and we maintain the confidence that all Missouri residents facing these allegations can depend on us in their time of need. We invite all residents Nationwide, who may be facing a federal charge, or their loved ones, to schedule a free case evaluation with a member of our legal team. Allow our lawyers to answer your questions, address your concerns, and inform you of the ways in which we can fight for the best possible terms. Trust your case to proven St. Louis federal crime attorneys.
---
Contact The Hammer Law Firm, LLC today to get started on your defense with our St. Louis federal crimes lawyer.
---