Medicare Fraud Protecting Your Rights & Defending Your Future
Medicare Fraud Defense Lawyer in St. Louis
Medicare is a federal program that provides health benefits to people over the age of 65, and in some cases, younger individuals with disabilities. The Medicare department reports billions of dollars in losses every year due to fraudulent claims. If you have been accused of a fraudulent Medicare claim, remember – you are innocent until proven guilty.
Contact a St. Louis federal crime lawyer at The Hammer Law Firm, LLC for a free and confidential consultation to learn how we can help you.
Medicare Fraud Examples
Medicare fraud accusations come in many shapes and forms.
Who can be accused?
Healthcare providers
Suppliers
Individuals
Companies / employers
What are some examples of Medicare fraud?
Healthcare providers can be accused of billing Medicare for made-up services. If Medicare believes the patient never received the services the healthcare provider claims, this could warrant a fraud allegation.
Medical equipment suppliers might be accused of billing Medicare for supplies they never provided.
Individuals might be accused of making false claims or using someone else's Medicare card to receive treatment or obtain medical supplies.
HEAT Task Force
There is a federal task force known as "HEAT" which stands for Healthcare Fraud Prevention and Enforcement Action Team. This task force proactively looks for potential Medicare fraud. If you were implicated in a fraud scheme by HEAT, contact The Hammer Law Firm, LLC right way, even if you have not yet been formally charged.
Medicare fraud and other types of healthcare fraud are federal offenses. To avoid the severe consequences of a felony conviction, contact The Hammer Law Firm, LLC. We can use our experience and knowledge of this field to provide the aggressive defense you need.
Call us today at (314) 334-3807 for a free and confidential evaluation of your case!

client testimonials
At The Hammer Law Firm, LLC, your satisfaction is our priority! See for yourself what our clients have to say about working with us.
"Thank God for Mark Hammer"

I cannot begin to explain in words how thankful I am that I contacted the Hammer Law Firm when I found myself facing criminal legal charges. I and my family will always be grateful beyond words for the role that Mark Hammer and The Hammer Law Firm played i

- Former Client

"Mark and Nicole are the best law firm partners ever."

They are professional, courteous, and respectful to both the courts and their clients. This team of professionals is not in business just for the money, they are truly out to help their clients.

- C.E.

"He is a gentleman, exudes confidence and relieves stress with his truth."

After a thorough review, Mark began to address every legal issue confronting our son, he had already done his homework, which began to bring sanity back into our family as we sat there.

- Ken

"Phenomenal Experience!!"

We contacted Mark Hammer for help with our son. Mark was truly amazing! He worked hard for our son, was always a text or phone call away, and we could not have asked (or predicted) a better outcome! Absolutely in awe of him.

- D.C.

"You don't know how much of a blessing you are to us"

Thank you so much, Nicole. I have faith and believe everything that's happening is for a reason. I know everything will be fine and I believe you are going to do everything you can and I'm very grateful for it.

- C.G.

"I could not have imagined getting through this difficult and uncertain time without the help of the Hammer Law Firm."

I absolutely recommend Mark and Nicole to anyone who is needing more than a lawyer, but people who do genuinely care about you and who want to get the best possible outcome to get you through this difficult time.

- E.M.

"I have never met such dedicated attorneys that work so hard for the truth to come out at the trial."

I just wanted to thank you again for your compassion, kindness, and support given to my family throughout this ordeal.  I thank the Hammer Law Firm for not only giving my son his life back but his family as well.

- Former Client

"I could call anytime, day or night, and you were there, even when times was bad for you."

I feel that you were not just our attorneys, but a friend that stood beside us through it all. I could call anytime, day or night, and you were there, even when times were bad for you.

- V.H.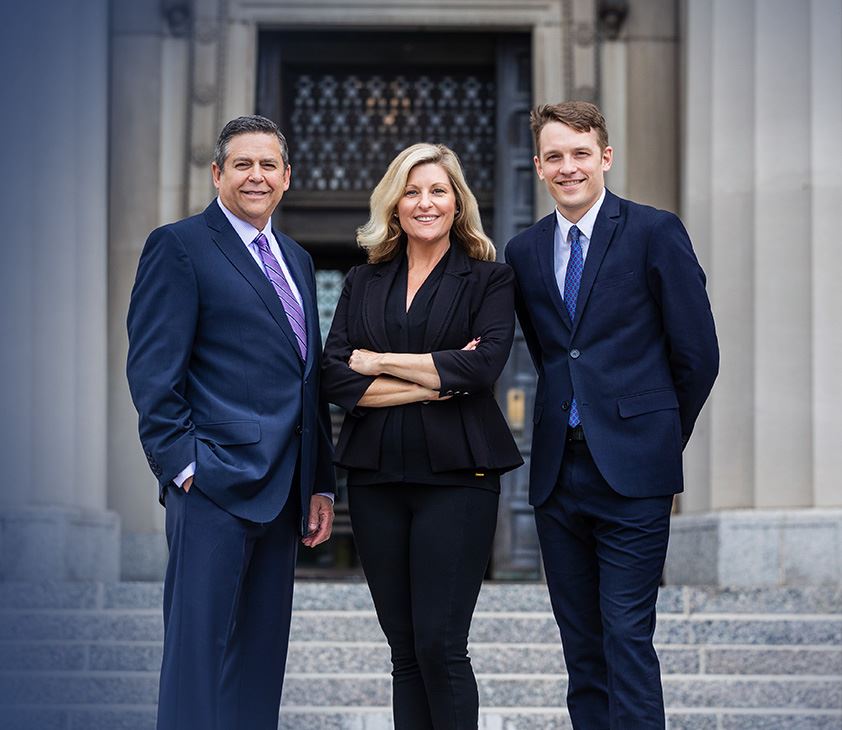 WHY TRUST OUR ST. LOUIS CRIMINAL DEFENSE LAW FIRM?
What Makes Us Different
We work directly with you to determine the best possible outcome based on your goals and needs. We then create personalized legal strategies to set your case up for success.

Accessibility & Availability

Our attorneys pride ourselves on always being available to address any questions you have regarding your case. With our team, you aren't just a number.

As former prosecutors who know how the 'other side' operates, we have a unique insight that allows us to set our client's cases up for success.

Experienced Legal Counsel

The Hammer Law Firm, LLC team has more than 60 years of combined criminal law experience. We have the tools, knowledge, and resources to effectively advocate on your behalf.

protecting You & Your Future
Former Prosecutors With Over 60 Years of Combined Experience
When you want personal support and proven representation, you need to bring The Hammer Law Firm, LLC to the fight.