RICO Charges Protecting Your Rights & Defending Your Future
RICO / Racketeering Charges
A St. Louis Federal Crime Lawyer Can Protect Your Interests
RICO (Racketeer Influenced and Corrupt Organization) and racketeering charges may be filed against leaders of alleged criminal organizations for various types of criminal activities, from fraud to murder. These are some of the most complex federal cases and often involve lengthy investigations that may span a period of months, years or even decades. The nature of RICO charges and the amount of resources that the federal government will utilize in its attempt to put alleged organized crime leaders behind bars mandates the highest quality defense counsel.
At The Hammer Law Firm, LLC, federal defense representation is a key part of our legal practice. This is a focused area of law, with its own set of proceedings, criminal offenses and personnel that must be dealt with in an expert manner to seek the best possible result for a defendant. Our attorneys have more than three decades of legal experience and are former prosecutors who have seen how both sides of criminal proceedings work. We use this knowledge to offer our clients the aggressive and effective counsel they need in the face of RICO, racketeering and all other types of federal crime charges in Missouri.
About the Racketeer Influenced and Corrupt Organizations (RICO) Act
The Racketeer Influenced and Corrupt Organizations (RICO) Act, Title IX of the Organized Crime Control Act of 1970 was signed into law by President Richard M. Nixon. It was originally created and enforced with the intention of prosecuting the Mafia and others who were actively engaged in organized crime operations, primarily the leaders of these operations. Previously, organized crime leaders were able to escape prosecution because they did not commit criminal acts themselves but rather ordered others to do so or ran operations that allowed for the commission of these crimes to forward their interests. The RICO Act offered the federal government a way to prosecute these so-called "crime bosses."
Through the decades, the application of the RICO Act has been more widespread. A person may be charged under the RICO Act for pattern of racketeering activity, which requires at least two racketeering acts committed within 10 years of one another. Such racketeering acts may include:
Violations of state laws applying to gambling, drugs, murder, kidnapping, extortion, robbery, bribery, arson or dealing in obscene matter;
Violations of federal laws applying to counterfeiting, fraud, embezzlement, bribery, obstruction of justice, gambling, murder-for-hire, money laundering and more;
Embezzlement of union funds;
Bankruptcy fraud;
Securities fraud;
Immigration violations; and
Acts of terrorism.
A person who is convicted under the federal RICO Act, proven to have committed any two of the various crimes covered under racketeering activity within a 10-year period, may face up to 20 years in prison. Enhanced penalties may apply, however, depending on the type and number of alleged crimes committed.
In addition to facing imprisonment in federal prison, a person convicted of racketeering may also be forced to forfeit any and all property, assets and other benefits gained from the business or organization that was involved in the RICO violations. Even during a trial and before a defendant's guilt or innocence is determined, the federal government may attempt to seize all assets and prevent the transfer of property. Victims of alleged RICO violations can also file civil suits against alleged offenders to seek monetary damages, equivalent to up to three times the amount of their losses.
Do not jeopardize your freedom, your reputation and your financial stability by hiring a subpar attorney. Contact The Hammer Law Firm, LLC and receive experienced insight plus aggressive representation when you need it most.

client testimonials
At The Hammer Law Firm, LLC, your satisfaction is our priority! See for yourself what our clients have to say about working with us.
"Thank God for Mark Hammer"

I cannot begin to explain in words how thankful I am that I contacted the Hammer Law Firm when I found myself facing criminal legal charges. I and my family will always be grateful beyond words for the role that Mark Hammer and The Hammer Law Firm played i

- Former Client

"Mark and Nicole are the best law firm partners ever."

They are professional, courteous, and respectful to both the courts and their clients. This team of professionals is not in business just for the money, they are truly out to help their clients.

- C.E.

"He is a gentleman, exudes confidence and relieves stress with his truth."

After a thorough review, Mark began to address every legal issue confronting our son, he had already done his homework, which began to bring sanity back into our family as we sat there.

- Ken

"Phenomenal Experience!!"

We contacted Mark Hammer for help with our son. Mark was truly amazing! He worked hard for our son, was always a text or phone call away, and we could not have asked (or predicted) a better outcome! Absolutely in awe of him.

- D.C.

"You don't know how much of a blessing you are to us"

Thank you so much, Nicole. I have faith and believe everything that's happening is for a reason. I know everything will be fine and I believe you are going to do everything you can and I'm very grateful for it.

- C.G.

"I could not have imagined getting through this difficult and uncertain time without the help of the Hammer Law Firm."

I absolutely recommend Mark and Nicole to anyone who is needing more than a lawyer, but people who do genuinely care about you and who want to get the best possible outcome to get you through this difficult time.

- E.M.

"I have never met such dedicated attorneys that work so hard for the truth to come out at the trial."

I just wanted to thank you again for your compassion, kindness, and support given to my family throughout this ordeal.  I thank the Hammer Law Firm for not only giving my son his life back but his family as well.

- Former Client

"I could call anytime, day or night, and you were there, even when times was bad for you."

I feel that you were not just our attorneys, but a friend that stood beside us through it all. I could call anytime, day or night, and you were there, even when times were bad for you.

- V.H.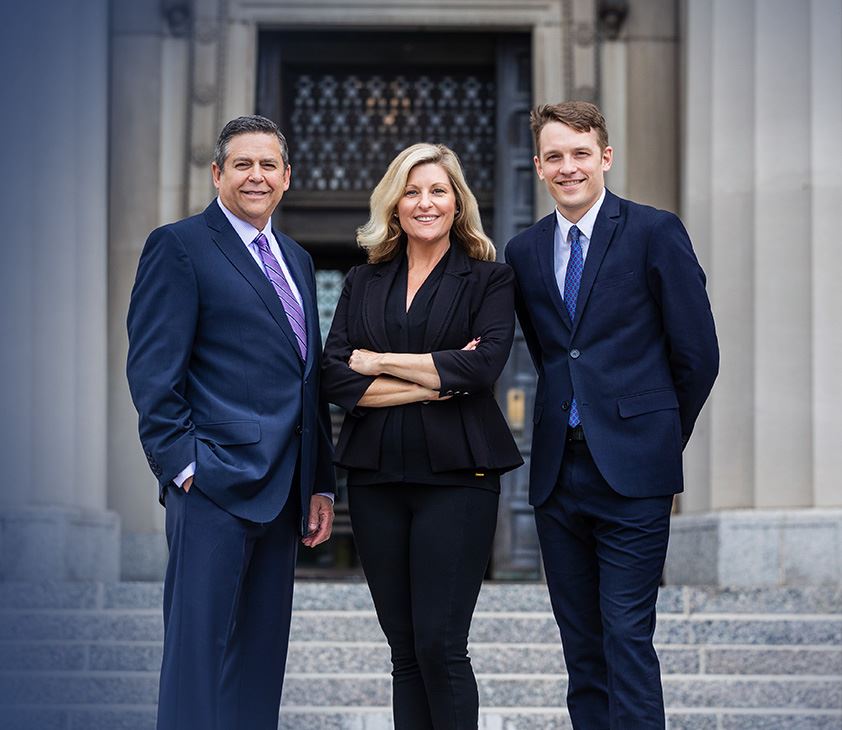 WHY TRUST OUR ST. LOUIS CRIMINAL DEFENSE LAW FIRM?
What Makes Us Different
We work directly with you to determine the best possible outcome based on your goals and needs. We then create personalized legal strategies to set your case up for success.

Accessibility & Availability

Our attorneys pride ourselves on always being available to address any questions you have regarding your case. With our team, you aren't just a number.

As former prosecutors who know how the 'other side' operates, we have a unique insight that allows us to set our client's cases up for success.

Experienced Legal Counsel

The Hammer Law Firm, LLC team has more than 60 years of combined criminal law experience. We have the tools, knowledge, and resources to effectively advocate on your behalf.

protecting You & Your Future
Former Prosecutors With Over 60 Years of Combined Experience
When you want personal support and proven representation, you need to bring The Hammer Law Firm, LLC to the fight.