List of Schools Protecting Your Rights & Defending Your Future
The Hammer Law Firm Represents Students
If you have been accused of a sex crime at your college or university, it is urgent that you seek experienced legal counsel right away. Our team at The Hammer Law Firm, LLC is backed by ample experience and skills needed to protect your rights and future. We can provide representation for students attending the following schools:
Avila University
Baptist Bible College and Graduate School
Brown Mackie College St Louis
Bryan University Springfield
Calvary Bible College and Theological Seminary
Central Bible College
Central Christian College of the Bible
Central Methodist University College of Liberal Arts & Sciences
Chamberlain College of Nursing Missouri
College of the Ozarks
Colorado Technical University Kansas City
Columbia College
Conception Seminary College
Cottey College
Cox College
Crowder College
Culver Stockton College
DeVry University Missouri
Drury University
East Central College
Evangel University
Fontbonne University
Grantham University
Hannibal LaGrange University
Harris Stowe State University
Hickey College
Jefferson College
Kansas City Art Institute
Kenrick Glennon Seminary
L'Ecole Culinaire
Lincoln University
Lindenwood University
Linn State Technical College
Maryville University of Saint Louis
Messenger College
Metro Business College Arnold
Metro Business College Cape Girardeau
Metro Business College Jefferson City
Metro Business College Rolla
Metropolitan Community College Blue River
Metropolitan Community College Business & Technology
Metropolitan Community College Longview
Metropolitan Community College Maple Woods
Metropolitan Community College Penn Valley
Midwestern Baptist Theological Seminary
Mineral Area College
Missouri Baptist University
Missouri Southern State University
Missouri State University Springfield
Missouri State University West Plains
Missouri Tech
Missouri University of Science and Technology
Missouri Valley College
Missouri Western State University
Moberly Area Community College
National American University Independence
National American University Lee's Summit
National American University Zona Rosa
North Central Missouri College
Northwest Missouri State University
Ozark Christian College
Ozarks Technical Community College
Park University
Pinnacle Career Institute North Kansas City
Pinnacle Career Institute South Kansas City
Ranken Technical College
Research College of Nursing
Rockhurst University
Saint Louis Christian College
Saint Louis Community College
Saint Louis University Main Campus
Southeast Missouri Hospital College of Nursing and Health Sciences
Southeast Missouri State University
Southwest Baptist University
St Charles Community College
St Louis College of Health Careers Fenton
St Louis College of Health Careers St Louis
St Louis College of Pharmacy
State Fair Community College
Stephens College
Stevens Institute of Business & Arts
Texas County Technical College
Three Rivers Community College
Truman State University
University of Central Missouri
University of Missouri Columbia
University of Missouri Kansas City
University of Missouri St Louis
University of Phoenix Kansas City Campus
University of Phoenix Springfield Campus
University of Phoenix St Louis Campus
Vatterott College Berkeley
Vatterott College Joplin
Vatterott College Kansas City
Vatterott College Saint Joseph
Vatterott College Springfield
Vatterott College St Charles
Vatterott College Sunset Hills
Washington University in St Louis
Webster University
Wentworth Military Academy & Junior College
Westminster College
William Jewell College
William Woods University

client testimonials
At The Hammer Law Firm, LLC, your satisfaction is our priority! See for yourself what our clients have to say about working with us.
"Thank God for Mark Hammer"

I cannot begin to explain in words how thankful I am that I contacted the Hammer Law Firm when I found myself facing criminal legal charges. I and my family will always be grateful beyond words for the role that Mark Hammer and The Hammer Law Firm played i

- Former Client

"Mark and Nicole are the best law firm partners ever."

They are professional, courteous, and respectful to both the courts and their clients. This team of professionals is not in business just for the money, they are truly out to help their clients.

- C.E.

"He is a gentleman, exudes confidence and relieves stress with his truth."

After a thorough review, Mark began to address every legal issue confronting our son, he had already done his homework, which began to bring sanity back into our family as we sat there.

- Ken

"Phenomenal Experience!!"

We contacted Mark Hammer for help with our son. Mark was truly amazing! He worked hard for our son, was always a text or phone call away, and we could not have asked (or predicted) a better outcome! Absolutely in awe of him.

- D.C.

"You don't know how much of a blessing you are to us"

Thank you so much, Nicole. I have faith and believe everything that's happening is for a reason. I know everything will be fine and I believe you are going to do everything you can and I'm very grateful for it.

- C.G.

"I could not have imagined getting through this difficult and uncertain time without the help of the Hammer Law Firm."

I absolutely recommend Mark and Nicole to anyone who is needing more than a lawyer, but people who do genuinely care about you and who want to get the best possible outcome to get you through this difficult time.

- E.M.

"I have never met such dedicated attorneys that work so hard for the truth to come out at the trial."

I just wanted to thank you again for your compassion, kindness, and support given to my family throughout this ordeal.  I thank the Hammer Law Firm for not only giving my son his life back but his family as well.

- Former Client

"I could call anytime, day or night, and you were there, even when times was bad for you."

I feel that you were not just our attorneys, but a friend that stood beside us through it all. I could call anytime, day or night, and you were there, even when times were bad for you.

- V.H.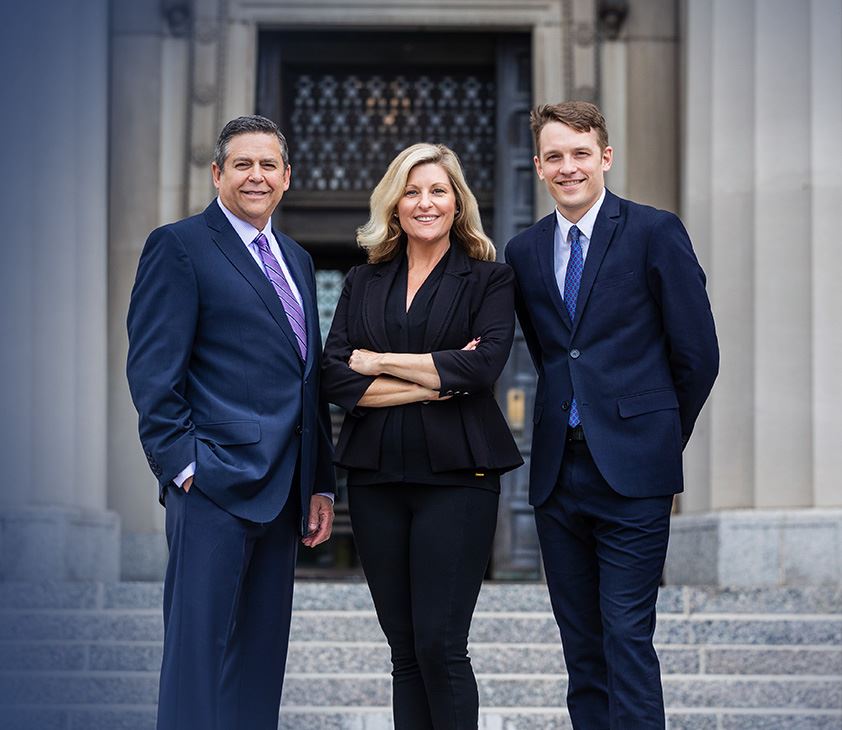 WHY TRUST OUR ST. LOUIS CRIMINAL DEFENSE LAW FIRM?
What Makes Us Different
We work directly with you to determine the best possible outcome based on your goals and needs. We then create personalized legal strategies to set your case up for success.

Accessibility & Availability

Our attorneys pride ourselves on always being available to address any questions you have regarding your case. With our team, you aren't just a number.

As former prosecutors who know how the 'other side' operates, we have a unique insight that allows us to set our client's cases up for success.

Experienced Legal Counsel

The Hammer Law Firm, LLC team has more than 60 years of combined criminal law experience. We have the tools, knowledge, and resources to effectively advocate on your behalf.

protecting You & Your Future
Former Prosecutors With Over 60 Years of Combined Experience
When you want personal support and proven representation, you need to bring The Hammer Law Firm, LLC to the fight.