Going Back to School? Get Educated On Title IX.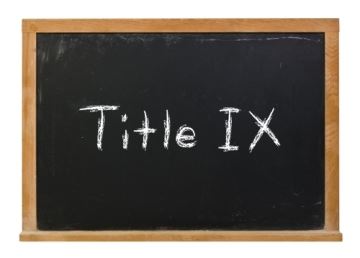 Title IX is a complicated topic, but as you return to your university classes this fall, it's imperative that you understand what it means for you. Whether you're a new student or ready to graduate after this year, you may not be aware that many behaviors can constitute Title IX violations, and that universities take these claims extremely seriously.
Protect your reputation and prevent yourself from accidentally engaging in misconduct by learning the basics from our St. Louis Title IX defense attorneys. We have decades of experience working with students who have been accused, and on our blog, we'll answer some of the most common questions we've heard. If you've already been accused, knowing the penalties you can face is even more crucial.
What Is Title IX, and How Is It Applied?
What we refer to as "Title IX" is actually a shorthand for a specific clause in the Education Act of 1972, which was intended to halt rampant sex-based discrimination against women at universities, as well as deep disparities in financial funding for women's athletic and academic teams. After dozens of lawsuits, Congress enacted this amendment and Richard Nixon signed it into law.
At its most basic, Title IX is an anti-discrimination law, and it is deceptively simple – it merely states that organizations receiving federal funds cannot allow discrimination on the basis of sex or gender. But since its passing, Title IX has expanded into an entire branch of the law unto itself. Covering a range of issues from harassment to sexual assault, virtually anyone can bring a Title IX-related claim to the school's attention, as long as they believe misconduct was committed on the basis of their sex or sexual orientation.
Some common behaviors classified as Title IX violations include:
Texting or calling someone against their stated wishes
Making jokes at the expense of another's sex or gender
Publicly exposing someone for their sexual behavior or choices
Sending inappropriate or explicit pictures over text
Using threatening language, even in a joking manner
How Can a Title IX Outcome Affect My Scholastic Career?
It's important to note that university-held Title IX hearings are not equivalent to criminal proceedings: You cannot be jailed if you are found guilty. That being said, these charges are often filed at the same time as a real criminal prosecution begins, and even on their own, they can represent substantial obstacles to your educational success.
School officials vary in their application of Title IX rules, but all are afraid of mishandling an investigation and losing federal assistance. Because of this, penalties can be exceptionally harsh and include:
Permanent expulsion from your school
Suspension, either temporary or long-term
Administrative penalties and fines
Limits to participation in school and extracurricular programs
Receiving sex offender status
Losing your degree or past university credits
How Can I Protect Myself from Title IX Accusations?
The most obvious rule is that you should avoid sexually threatening, discriminatory, or inappropriate conduct of any kind, and treat others with respect. However, there are many cases where you could be accused of a Title IX claim, even if you have behaved perfectly according to your recollection. In these cases, you need to be aware of your rights, and how to prepare a solid defense.
If you suspect that someone may file a Title IX claim against you, be sure to halt all contact with the prospective accuser and collect relevant exchanges, including any conversations over text, chat, or email. Try to remember all the details of what was said between you, and keep your own record of in-person interactions. Finally, speak with any prospective witnesses to your behavior, or who could contradict the testimony of your accuser. After you've gathered this information, you will need to speak with a skilled criminal defense attorney who has experience navigating this area of the law and can act as your advocate with the school system.
For more information on how to protect yourself from Title IX penalties this fall, contact our St. Louis criminal defense lawyers at The Hammer Law Firm, LLC. With 30 years of combined experience defending students' rights, we can stand up to organizations on your behalf and help you prepare a strong Title IX defense.
Posted By
The Hammer Law Firm
Categories: